The Best Discount Sunglasses ~ How to Know…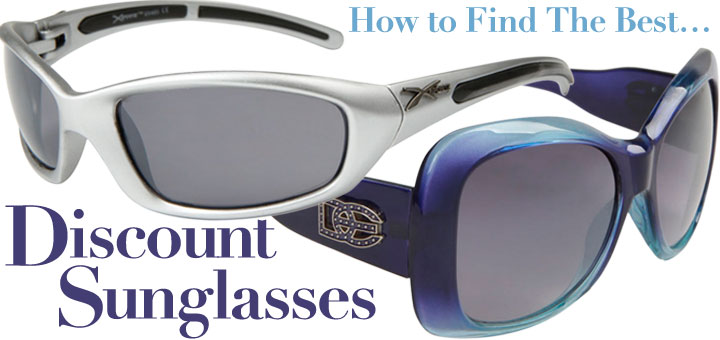 If you are shopping for discount sunglasses, chances are you are running into a large amount of fantastical claims. It might be hard to decipher if in fact you are getting a decent pair of lower priced sunglasses, or nothing more than garbage with tinted lenses and a flimsy frame. There are several things that determine whether you are in fact buying the best discount sunglasses, or if you are just wasting your time and money buying from the wrong supplier. What's it take to make a pair of discount sunglasses the best? Three factors come into play, and we will discuss these now.
VALUE: First and foremost, price is a serious factor when considering sunglasses at a discounted price. However value should be considered as more than simply the price you pay. Granted, the price value is a factor; but also consider the usefulness of sunglasses to people, regarding what it is that they actually accomplish. Thinking in these terms will allow you to appreciate even more the actual value of sunglasses. You will make your profits on this basis, in addition to the added value of buying in volume at a reduced price. Operating on these principles will enable you to make an educated decision as to determining the value of your selections.
QUALITY: Of course you need to avoid wholly cheap sunglasses that are nothing more than total garbage. If the price seems unreasonably low, chances are they are in fact total garbage and probably best to avoid completely. You will fair much better if you seek out sunglasses that are discounted strictly on the basis that they do not carry a name brand label or logo. Commonly high-end sunglasses don't offer anything more superior in materials than lower priced pairs. Watch for 100% UVA & UVB protection stickers. If these are present on the discounted sunglasses, then you are assured that they are just as protective & effective as their more expensive counter-parts. If you are still unsure as to the quality of the sunglasses you are considering investing in, you might consider purchasing one dozen; perhaps a sample pack of assorted styles. This is a nice way to gauge the actual quality of the spectrum of sunglasses offered by the supplier.
STYLE: Another factor to keep in mind when selecting your discount sunglasses is the actual style of them. Whether it is aviators, classics, fashion or sport sunglasses; if they look cheap and out of date, nobody will want to pay good money for them. You will need to select current styles, or classic favorites. Browse online for expensive sunglasses, typically these are the most sought after designs. You should have no trouble finding a supplier that has mimicked the popular styles (minus the brand name of course) in their selection. You will need to stay fairly current with styles that are selling well, and be sure that your choices reflect current demands.
Finding a source for discounted sunglasses can be challenging, but if you adhere to a few basic concepts it shouldn't be too hard to recognize a worthwhile supplier, that carries the sunglasses you desire. Value, quality and style! Shown below are just a few of the most popular styles on the market today.