Drop Shipping Your Orders
Drop Shipping Instructions
Drop shipping is a convenient method in which you can purchase our products directly and have them shipped to YOUR customer's, without ever revealing your source. The process is quite simple, and we don't apply any fees for this service. In this article we will discuss both Drop Shipping and Blind Drop Shipping methods.
Drop Shipping & Blind Drop Shipping are Free
Drop Shipping vs. Blind Drop Shipping:
Drop Shipping is simply shipping to an address which is different from the billing address. When Blind Drop Shipping, the CTS information is replaced with your information on the shipping labels, and the packing slip will contain your information. Allowing for your continued success as a reseller.
After you have completed your shopping, and are ready to begin the check-out process simply proceed to check-out from your shopping cart. Within the check-out process you will encounter the following steps. The instructions below are the only way to ensure you will effectively achieve a blind drop shipped order.
Step 1: Billing Details

In this area you will enter YOUR BILLING INFORMATION. You are not able to give your customer's billing information, it must be yours. Be sure that you have unchecked the box "I also want to ship to this address". Once this information has been inserted, click the yellow "Bill To This Address" button to continue onto step two.
Step 2: Shipping Details
This is where you will place YOUR CUSTOMER'S SHIPPING INFORMATION. Once you have inserted the appropriate information for your customer, continue by clicking the yellow "Ship To This Address" button and continue onto Shipping Method.
After selecting the method of shipping, click the yellow "Continue" button.
Step 3: Blind Drop Ship
This is the most important step. In the "Order Instructions/Comments (Optional)" box you must give instructions, or the CTS Business Information will appear on packaging. If you are selling our products as your own, this is a critical issue, and one that must be noted.
To ensure that packages arrive without the CTS Business Information, you must put "Blind Drop Ship" into the comment area provided, ensuring that your information is presented as sender.
When you select to have an order blind drop shipped, the CTS team will generate a UPS or FedEx label that will reflect your business information. This will enable you to present CTS merchandise as your own, and is just one of the ways we endeavor to ensure your success. Our competitors frequently charge for this process, however at CTS this service is free.
Illustration of Blind Drop Shipping Checkout: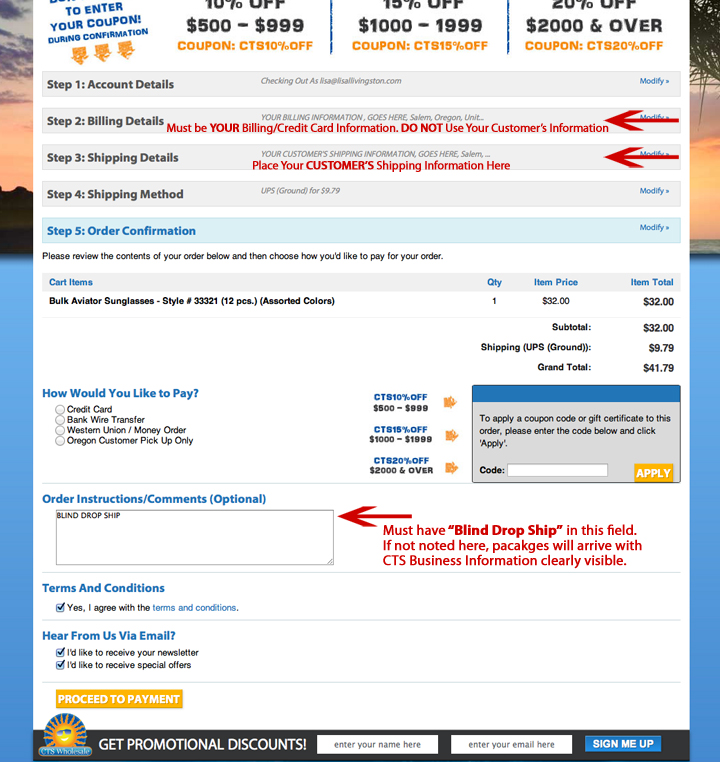 Drop Shipping Restrictions:
No International BLIND Drop Shipping. No International to USA or other countries.
Drop Shipping Orders will be shipped upon order placement, no storage of merchandise provided.
All merchandise will be drop shipped in units as sold on website as specified on product page.
i.e., 1pc, 6pcs, 10pcs, or 12pcs units.