Buying Wholesale Discount Sunglasses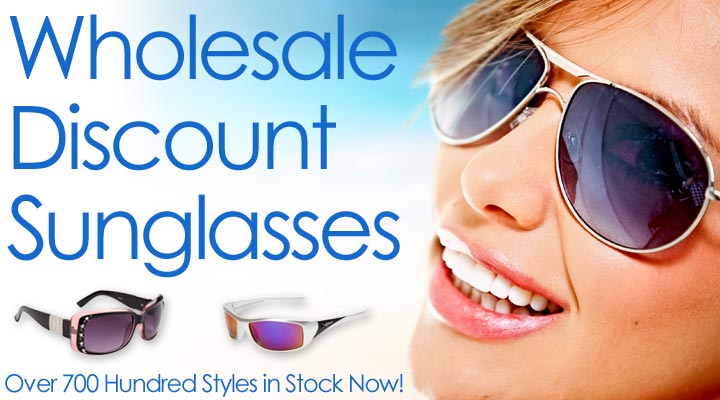 Wholesale Discount Sunglasses are a smart way to make the highest possible profits for any sunglasses retailer. Everyone knows that the demand for low priced, attractive sunglasses is a limitless one; everyone wants the brand named styles, but not the brand named prices. This is why buying and reselling sunglasses is an exceedingly attractive business venture.
Everyone knows that the when they buy the big name brands, they are simply paying for that; the Name Brand. Brands like Carrera, Dolce & Gabbana, and Louis Vuitton actually have sunglasses that run upwards of thousands of dollars, for one pair of sunglasses. Dolce & Gabanna actually have a pair of sunglasses that are priced at $383,609. Granted these are trimmed in gold and have the brand name written in diamonds, but seriously? Obviously these are not the sunglasses for everyday purposes. In most cases people appreciate a low priced, yet still attractive, pair of sunglasses. Which is why discount sunglasses are the obvious choice for sunglass retailers.
Lower priced sunglasses protect your eyes exactly the same as the popular brands, by absorbing harmful rays of the sun. And with the right sunglasses provider, you are capable of providing customers with the latest styles of sunglasses, which are in fact inspired by the aforementioned name brands. At CTS Wholesale Sunglasses, we strive to provide the newest and best selling styles of sunglasses, all at the absolutely lowest wholesale price. Offering over 700 hundred styles of discounted sunglasses ensures that you can and will be offering your customers the sunglass styles that they seek.
In addition to having one of the largest selections online, our discount sunglasses are ready to ship to you the moment you place your order. We have provided orders to customers the world over, including Austria, Australia, New Zealand, Guam, Monaco and Japan, just to name a few. Our warehouse is full of the sunglasses offered on our website, so there is now waiting. There are also no additional middleman fees to be applied, as we are the manufacturers/direct importers of our entire merchandise line. This allows all of the savings to be passed onto you.
It is to the Retailers that we offer lucrative discounts. Additionally, to our retailers we offer ideas on where to sell the discount sunglasses and who the target customers are. It makes sense to purchase sunglasses from CTS Wholesale Sunglasses. What you will gain from us first hand is quality service and quality sunglasses at heavily discounted rates. We look forward to being your supplier of wholesale discount sunglasses. Shown below are just a few of our best selling sunglasses!