2 Tips For Detecting Quality Wholesalers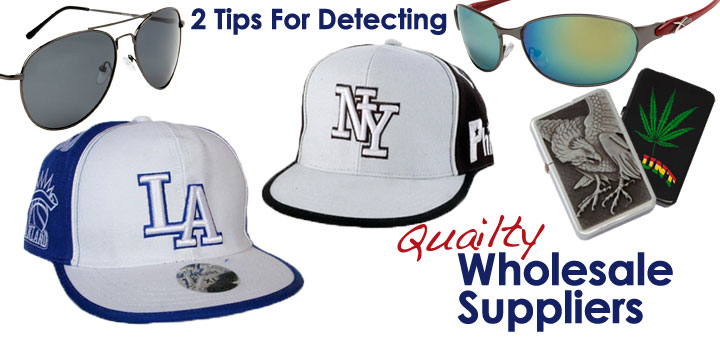 Today, with many wholesalers now having an internet presence, the choices can seem endless and you can easily become overwhelmed by the options available. It doesn't matter what type of resale company you have, whether you are looking for added stock for your convenience store or even products to sell at a fair booth, when it comes to looking for wholesale caps and wholesale sunglasses there are a few things you should keep in mind when looking for a quality supplier.
The following two tips will help you to be your own internet sleuth and find a quality wholesaler to work with:
#1 - Price Is Not Always The Difference
In order to turn a profit you will want to find wholesale products at a low price and be able to resell them at a higher amount. This should go without saying, however price per unit should not be your only concern when looking for wholesale products. There are many other factors that come into play when looking for a wholesaler, from the quality of their product to the reputation of the business. Just because a wholesaler offers you a product at a cheaper than market price, doesn't necessarily mean you are getting a deal. Take the time to research the company before you conduct business with them. Ask them for references and specific questions about their company, including how long they have been in business and questions about volume discounts. Many wholesalers offer volume discounts, however not all discounts are the same. Some may allow you to choose a variety of styles and colors, while other wholesalers will only apply discounts on items of the same style and color.
#2 - No Two Wholesalers Are Alike
When it comes to wholesalers there are many different kinds. Some wholesalers keep an inventory of all the products they sell, while other only order the product from their distributors as orders come in. If you want to ensure that your own inventory levels never fall it is advised to deal with a wholesaler that has stock readily available to ship to you. If they have to order from distributors first, this could delay the time it takes for you to receive your products. You also want to make sure that the wholesaler you choose uses a reputable shipping company to ship all of their orders, and ask about expedited shipping for those crisis moments when you suddenly run out of stock or forget to place your order on time. Having the ability to receive your products on time, or just in time in the case where you forget to place your order, will go a long way at keeping your customers happy and coming back.
In the end, it all comes down to your internet sleuthing. If you do your detective work properly you will be able to find a wholesaler that is not only reputable, but also offers a great price with a quick turnaround in shipping times. With a quality wholesaler you are bound to build a long lasting business relationship that will help you thrive as a reseller.