4 Simple Steps To Make Money Selling Wholesale Caps And Beanies Online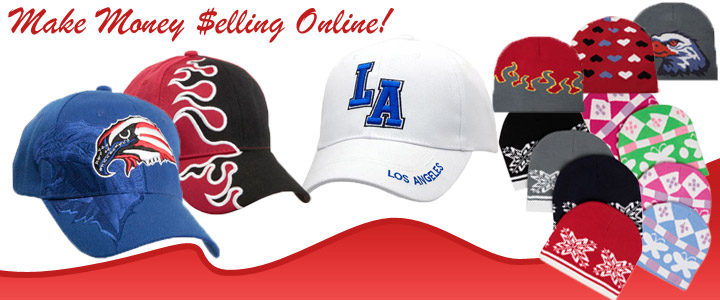 There are many work-from-home opportunities available today. With the enormous potential that the Internet provides, almost any type of home-based business is now possible. Of course some of the opportunities out there are better than others, while there are still a few that should be avoided altogether.
One of the easiest ways to start your own home-based business, one that doesn't require a lot of start-up capital, is opening your own online store. If you are looking to make some additional income with your own home-based business but are unsure of what opportunity to take advantage of, may we suggest becoming a reseller of wholesale products, such as wholesale beanies, caps and even sunglasses.
Here are a few steps to get started and make your own online wholesale cap business successful:
Step #1: Get A Website
To make your online business successful you'll need a website. Although there are many free hosting options and e-commerce solutions available, to be really successful, it is recommended that you have your own website, with a registered domain name, on a web host that has a dedicated IP address.
Although the initial start-up time may be longer, and a bit more expensive, having your own website will give you the flexibility to grow your business online, as some e-commerce solutions limit the number of products you can add.
What you'll need:
Domain name - you can register one for around $10 per year.
Web host - you can get some decent hosting for about $72 per year.
Dedicated IP address - you can find one for about $2 per month.
Private SSL certificate - this will cost you about $50 a year.
Once you have those in place, you will need to actually create a website. There are many programs available to help you quickly and easily set-up your own site, but if you are a true beginner, it may be wise to let a professional do the work for you. Costs can vary, but a simple website shouldn't break the bank, and the investment is well worth it.
If you are not sure if running your own online store is right for you, and you want to try it out before you commit to anything first, here is a list of the Top 10 e-commerce software solutions as rated by TopTenREVIEWS:
1. Volusion
2. Shopify Professional
3. BigCommerce
4. 3DCart Starter
5. goEmerchant Internet Store
6. CoreCommerce Standard
7. Fortune3 Silver
8. Yahoo Merchant Starter
9. ProStores Business
10. Network Solutions Standard
Some other considerations for your online storefront:
You will also need a shopping cart script, which you can get for free. Two of the most popular are osCommerce and Zen Cart. Many of the popular web hosts will already offer osCommerce as a one-click install shopping cart solution.
Another consideration is your choice of a payment gateway. The fees can vary depending on the gateway you choose. The fees are around 2.2% to 2.9% of each transaction, depending on your sales volume per month.
Step #2: Get Some Inventory
Now that you have your website ready to go, the next thing you will need is some inventory.
At CTS Wholesale Sunglasses we offer a wide range of quality wholesale products, including wholesale sunglasses, wholesale caps wholesale lighters, and much more.
When purchasing wholesale, whether through us or another wholesaler, it is recommended that you purchase enough stock to offset the shipping costs. Some wholesalers, like us, even offer volume discounts. So make sure you do your research before deciding on any one company.
Step #3: Get Some Online Promotions
Once you have your website up and running the next step will be to start promoting it online. Online promotions will help your website to become indexed in the major search engines, like Google, thus making it easier for your potential customers to find you.
Some simple online promotions include:
Submitting your website to free online directories.
Producing original content and submitting it to article directories.
Creating a blog and doing some social bookmarking of your posts.
Submitting press releases for online distribution.
Setting up a Facebook page.
And opening up a twitter account.
Step #4: Get Some Offline Promotions
Even though your business will primarily be online, never underestimated the power of promoting your business offline. When you are first starting out, your local community has the potential to be a bigger sales market then what you can first expect on the Internet. Remember, your website will be brand-new, and there will be a host of competitors with higher-ranking websites to compete with. However, locally you may be one of a few businesses offering your particular product for sale.
Some offline promotions include:
Handing out business cards that direct people to your website.
Print ads in local and community newspapers.
Setting up a vendor booth at local fairs, tradeshows, and events.
The key to building a successful online business is patience. It will take some time for your website to move up in the ranks, but if you follow the 4 simple steps from above, you will be turning a profit in no time.