DE™ Designer Eyewear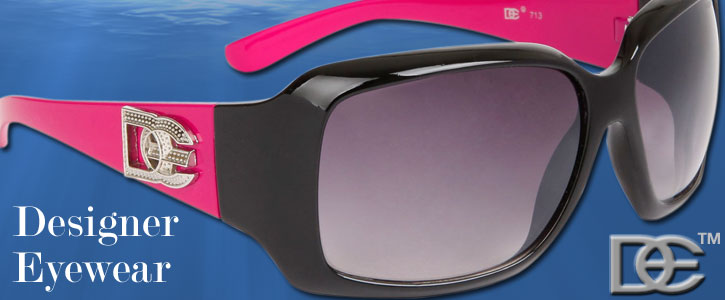 Designer Eyewear™ is where you will find a plethora of fashionable sunglasses for women, and several unisex styles that are classic favorites too! Sold by the dozen, each one is packaged in the attractive DE™ logo display box, starting for as little as $20 for 12 pairs. You'll find favorites like Cat Eye sunglasses, stylish one piece lens styles, and of course the super popular vintage and celebrity styles of sunglasses. Unisex styles such as Aviators, classics and stunners, you name it, Designer Eyewear™ has just what you're looking for. Styles are inspired by expensive brands, such as Dolce & Gabbana, Vogue, and Versace, and many others, but are sold at a fraction of the price. Designer Eyewear™ is the #1 brand for every style of women's designer sunglasses, with the broadest selection of styles. Shown below are a few of the popular sellers currently in stock now at CTS.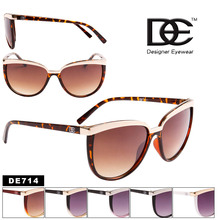 DE714 Cat Eye Fashion Sunglasses are a very elegant take on a vintage Cat Eye style of women's sunglasses. This model features and accenting metal strip across the frame front, above the lenses and bridge, which dramatically enhances the stylish appearance. Sold in pre-assorted frame and lens colors, with six variations in all.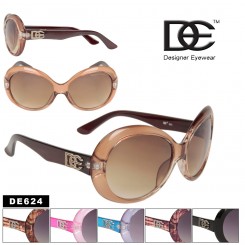 DE624 Designer Eyewear™ Fashion Sunglasses are a large round lens shaped Celebrity style, sold in attractive patterned frames, with wonderful color combinations.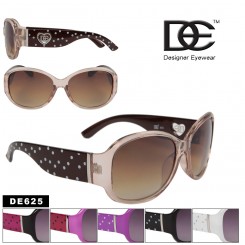 DE625 Designer Eyewear™ Fashion Sunglasses are another favorite, with adorable polk-a-dot frame arms with coordinated frame colors that make these a great seller. The DE™ logo is enclosed within a heart shape on one frame arm.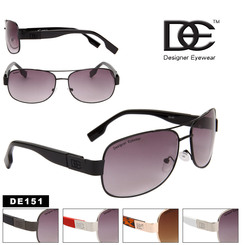 DE151 Aviator Sunglasses with metal frames with a squared shaped lenses is another favorite. This unisex sunglass style comes in five colors, and is always a top seller.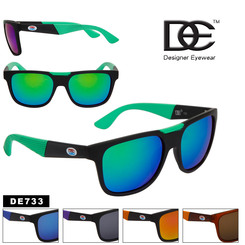 DE733 This is a brilliant new style from DE™ with excellent flash mirror lens coatings included in each dozen. This model has a textured temple with matching bridge piece.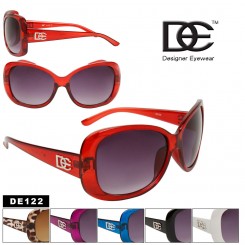 DE122 Is a vintage frame style of women's sunglasses, avialable in solid and pattern frame options. The metal DE™ logo on each arm is attractively designed to complitment the frame style.
If you haven't browsed the Designer Eyewear collection yet, you can do so now, by simply clicking here. You'll discover that in addition to providing you with classic best selling styles, DE™ is the brand with an extensive selection of women's designer sunglasses!