Diamond™ Eyewear

Rhinestone sunglasses have become some of the best selling sunglasses in the ladies fashion genre and Diamond™ Eyewear is the leading rhinestone sunglasses brand. Whether you are looking for large framed celebrity style sunglasses, or sleek single piece lens sunglasses, Diamond™ is the line you want! Sold by the dozen at CTS Wholesale, you can be sure to carry the top selling styles and make great returns on these sparkling sunglasses. Below you will find some of the current best selling styles.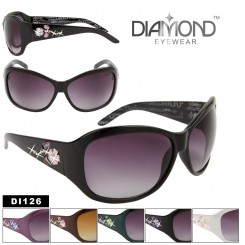 DI126 ~ Beautifully rendered gemstone flowers adorn each arm on this style. This assortment comes in six attractive colored frames, with complimentary colored flowers. Rhinestones make up the flower stems that enhance the frame style superbly.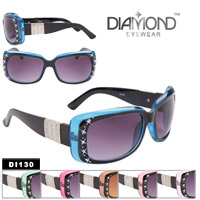 DI130 ~ Super sellers featuring transparent plastic frames in stunning colors, this style has black arms with a silver band. Matching colored gemstones trim the outer edge of each lens, interspersed with clear colored rhinestones. Colors include teal green, peach and a very light lavender.
DI6004 ~ An attractive vintage frame style with unique chain temples. This model is encrusted with rhinestones along the outer edges of the frames. This style has a interesting pattern accenting the rhinestones.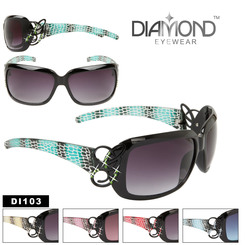 DI103 ~ Very striking duotone colors comprise this favorite rhinestone style of sunglasses for women. This is one of the top selling styles by Diamond™ Eyewear.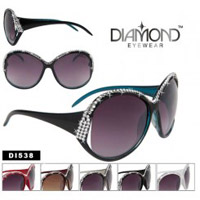 DI538 ~ Designer inspired celebrity style of sunglasses encrusted with multiple rows of rhinestones, this style sparkles like no other, with large round lens shapes! A nice assortment of six colors is packaged in this dozen, including white, black and red.
All Diamond™ EyewearSunglasses come packaged in the famous Diamond brand display box, featuring an iridescent Diamond Eyewear™ logo on a gloss black. With many styles having been inspired by name brand sunglasses such as Gucci, Carrera and Louis Vitton; these sunglasses are always top sellers, and one's you do not want to be without! If you would like to find other fashion sunglasses, check out DE™ Designer Eyewear, several styles from this brand have rhinestones as well.
If you would like to view our full line of Diamond™ brand rhinesone sunglasses click here.