Rhinestone Sunglasses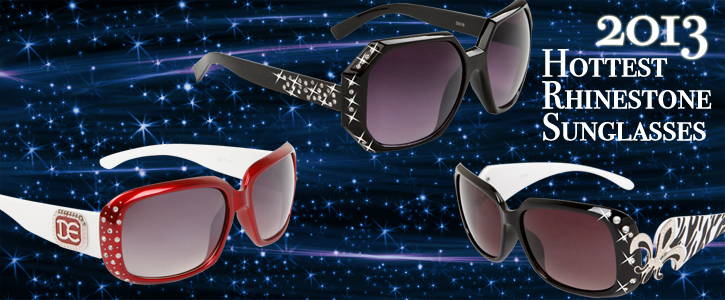 2013 is coming quickly and retailers will want to stock up with the hottest new styles of rhinestone sunglasses in time! Sparkling rhinestone sunglasses have a proven record of high sales, due to their large popularity with ladies. Combine the glitter of gems with stunning frame styles in attractive patterns and colors; such as the wild animal prints, and you have yourself a winning sunglasses style. Looking ahead, it is easy to spot the years front-runners for sales and be sure to stock your displays with them.
Sunglasses with rhinestones come in an abundance of styles. Favorites such as oversized celebrity style sunglasses, to sleek and stylish single piece lens styles, and everything in between. California Classics with rhinestones, vintage styles, and even shutter shades with rhinestones! At CTS you will find the largest online selection. More importantly you will find all of 2013's hottest styles in stock and ready for fast shipping to anywhere in the world.
Hot styles to consider for 2013 are shown below: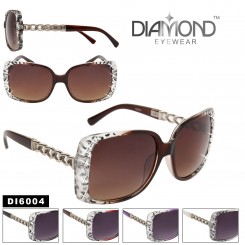 DI6004 This is a brand new style from Diamond™ Eyewear. This style features a very stunning chain designed frame arm with frame fronts encrusted with rhinestones. Each pair included in this assorted dozen comes with an attractive pattern accenting the outer edges of the frames, in assorted colors.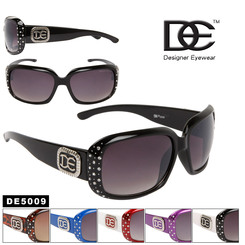 DE5009 This new DE™ style is very attractive and comes in gorgeous frame colors. These have a an elegant DE™ logo on each frame arm that is color coordinated to the frame color. Along the outer edge of the frame is multipule rows of rhinestones.
DI600 Rhinestone Sungalsses by Diamond™ Eyewear with a graceful looking arm design that is accented by a metal diamond shape, utterly encrusted with rhinestones! Beautiful frame colors with oversized round lenses make these an undoubtable top selling style.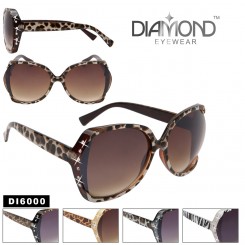 DI6000 Vintage Rhinestone Sunglasses in eye catching animal prints are a winning combination. This assorted dozen includes a wonderful variety of the most popular animal prints; Cheetah, Zebra, and the season's newest trend, Giraffe print in two color options. The frame style is an oversized lens with an angled outer edge and gradient lens tints.
CTS has friendly, knowledgeable staff available for live chat to assist you in making your selection and placing your order Monday through Friday during business hours (8am–4pm PST), or you can shop online anytime 24-7 at your leisure and convenience at CTSwholesaleSunglasses.com.