Sunglasses Diagram and Definitions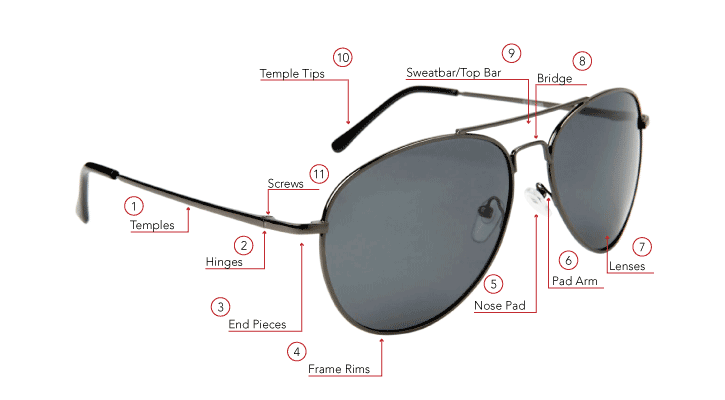 1. Temples: Also referred to as frame arms, this piece extends over and behind the ears of the wearer. These are designed to assist in holding the frame in place. There are many styles of temples.
2. Hinges: Portion of sunglasses frame that connect the front of frame to the temples, there by allowing the temples to collapse inward.
3. End Pieces: On the outer edge of the frame, this piece attaches the front of the frame to the temples, by extending outward away from the lenses.
4. Frame Rims: Part of the frame that lenses are inserted into. Designed to hold lenses securely in place.
5. Nose Pads: Oval shaped pieces of plastic that are designed to add comfort to the wearer, while also assisting in keeping sunglasses in place.
6. Pad Arms: Extending pieces of metal that attach the frame rim to the nose pads. These are typically adjustable to accommodate different nose shapes.
7. Lenses: Clear plastic, glass or polycarbonate that is clear or tinted.
8. Bridge: This is the part of the frame that attaches the lenses, and extends over and across the wearers nose. Designed to hold most of the weight of the sunglasses themselves.
9: Sweatbar/Top Bar: Common to aviator style sunglasses and other wire frame style sunglasses, used as added support for lenses.
10: Temple Tips: Usually made of soft rubber or plastic. Designed to offer added comfort to the wearer. Most commonly used with metal framed sunglasses.