Hot Trend: Wholesale Wood Sunglasses
A trending new fashion accessory for men and women alike is wood sunglasses. Handmade from oak, walnut, zebra wood or bamboo, wood sunglasses are one of the most sought after accessories this summer. Happily, just in time for summer, you can find wholesale wood sunglasses at CTS!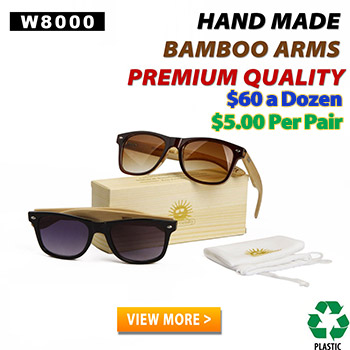 Wood Sunglasses Popularity:
Recently featured on the reality TV show Shark Tank, wood sunglasses have actually been on the market for some time now.
Wood sunglasses have been sported by mega super stars such as Beyonce, Snoop Dogg and others. Of course, celebrities are a sure fire way to fan the flames of desire when it comes to must-have fashion accessories.
Wood Sunglasses Pricing:
Pricing seems to be determined in part by the type of wood used, and of course the 'name brand' associated with them. They typically retailing for upwards of $100 per pair, and often times significantly more.
Most commonly you will find wood sunglasses in the popular classic silhouette, or some similar variation. Here at CTS we have developed a winning version, combining the universal appeal of a classic style, in conjunction with solid, handmade bamboo temples. Ours also feature an Eco friendly frame made of recycled plastic to compliment the bamboo temples. That's right, CTS is going green!
The portion of the frame surrounding the lenses is actually made from 100% recycled plastic, while the temples (or arms) are premium, hand shaped bamboo. Why plastic? To maintain our standards of unbeatable wholesale pricing! Utilizing recycled plastics is not only environment friendly; it allows us to pass incredible saving onto all our customers. All while providing you with the season's hottest seller, at prices that ensure your success as a retailer.
A full dozen of our wholesale bamboo sunglasses is priced at $60; half as much as one pair of other brands.
As a nice touch for retailers, ours with individual microfiber bags as well as a folding box for each pair. Our dozen is comprised of two stunning colors: Gloss Black with smoke lenses and a lovely dark brown with amber lenses. These new shades also boast a superior metal hinge, and of course 100% UV Protection.
Last weekend at the 100th annual Molalla Buckaroo Rodeo the sunglasses were literally selling like hotcakes, priced at $12.99 per pair. In a mall kiosk setting these will easily retail for $19.99 or more, depending on your locale.