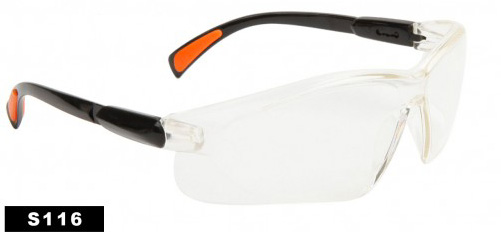 Never a dull moment at the CTS headquarters! This week we have expanded our eyewear selection to include a very practical line of wholesale safety glasses. Our safety eyewear is made of the highest quality impact resistant materials, and is available in three different lens tints.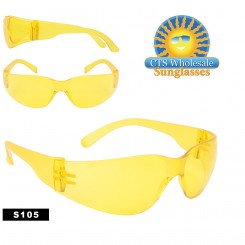 We have a very popular yellow lens; also known "driving glasses", due to the unique quality of the lens. If you've never worn a pair of yellow tinted
glasses, be prepared to be amazed! They truly do enhance vision to such a degree that people around the world are dubbing them the night driving glasses as well! Google it, it's true! We have several styles with this popular yellow lens. We also have a more classic clear lens safety glasses selection. These are made from clear impact resistant material. Clear safety glasses are a very versatile safety glass option, as vision is virtually unaffected while wearing them. And finally we have our tinted lens safety glasses. These are made from smoke tinted impact resistant material. The tinted lens safety glasses are ideal for dentist's offices, as the tint blocks the light, while protecting the patients eyes from flying debris.
All of our wholesale safety glasses are available in your choice of lens tints. Of our selection of styles there is a very nice variety. We have safety eyewear with adjustable arms; which will accommodate a wide range of people. Some of our safety glasses have rubber tipped arms, for a much more snug fit. Other models feature a small hole at the tip of the arm, to enable a neck strap to be attached.
Each style can be ordered in your choice of lens tint; by the dozen and start at only $18! That breaks down to just $1.50 a pair. You can't beat our prices! Check out our selection today, and start saving.