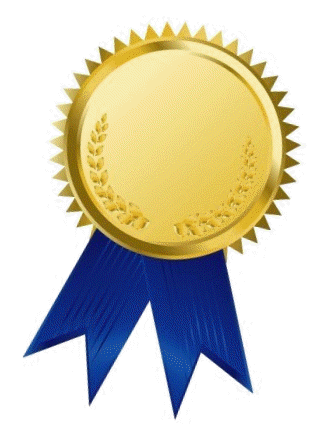 We've compiled a list of the years best selling hats! These hats are proven customer favorites. Our wholesale hats make a nice gift, they resell very well and are a priced low enough to make it hard to say no.
Best Selling Hats of 2013:
"Hooked on Jesus"
"I'm Blessed"
"F.R.O.G."
"I'd Rather Be Hunting"
"Vietnam Veteran"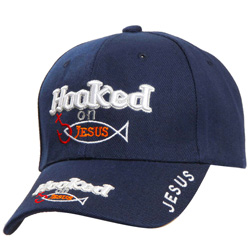 "Hooked on Jesus"
with a fish hook and the universal fish symbol denoting christianity decorate this baseball hat. This cap is currently available in blue (shown here), pink and grey colors. This cap sells wholesale for $2.50 each.
"I'm Blessed! 1 Chronicles 4:10"
This is an attractive baseball hat that features "I'm Blessed!" in script lettering in addition to the location of the scripture within the bible. This hat is currently available in beige, grey or black colors and is priced at $2.50 per piece.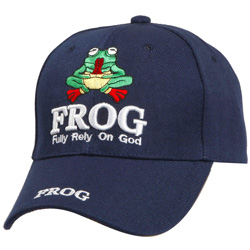 "F.R.O.G. Fully Rely On God"
This is another of our Christian Insignia, and features a cute frog in addition to the bold lettering "FROG" in white. This cap is currently available in navy blue, red and grey colors and also sells for $2.50 each.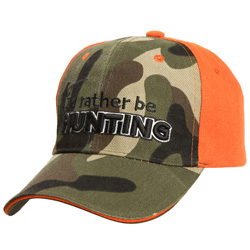 "I'd rather be HUNTING"
This is humorous, and safe. With a back panel of hunter orange, this hat will help visibility while hunting (although proper safety precautions should always be taken while hunting). This cap has a camouflaged front panel with an embroidered silhouette of a hunter holding a rifle in addition to the lettering.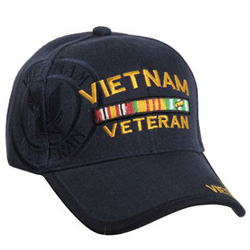 "Vietnam Veteran"
is available in navy blue currently. This cap, and many of the others from our Military insignia category are always among our top selling hats. With the words in gold thread, and enhanced with a military design. This cap is $3.00. If you would like to view the full range of hats currently in stock, click
here
. In addition to a great selection of baseball hats, we also have animal hats, beanies and even hat displays.