When you are in the process of starting a business it really doesn't matter if it is a side project or a full time career. What really matters most is your ability to successfully set up a business that will potentially create a long-term revenue stream - and it is even better if it is something you really enjoy doing. Here at CTS Wholesale Sunglasses we not only sell our products wholesale to you, but we also retail our products through our store, and even through kiosks. In fact, one of our busiest times of year is during the summer months where you will find us at local fairs and events manning our booth selling sunglasses.
So you can see, we really believe in our products, so much so that we also sell them retail ourselves. If you are looking to increase your revenue stream, either by adding a new product line to your catalogue, whether it is online of offline, or even thinking of setting up a booth this summer at a local fair, market or outdoor event, our package deals can make your business start-up plan easy.
Two of the most popular package deals are our sunglasses package deals and our lighter package deals.
Our sunglasses package deals are a great way to get an assortment of the most popular styles of sunglasses available. Whether it's a small sample pack of 1 dozen of the most popular styles of sunglasses in kid's, men's, or women's designs, right up to our larger package deals that contain 144 pair of sunglasses and a rotating floor model display, we have a package deal that will suit your needs.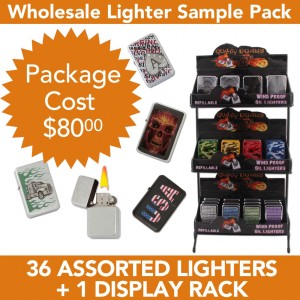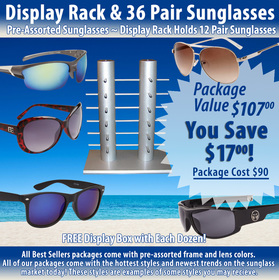 We also offer a selection of refillable oil lighters with replaceable wicks and flints. The lighter packages start out as simple as 3 dozen assorted lights right up to 48 lighters with a lockable rotating display case. Again, we have a package deal that will fit your needs for almost any type of business.
Take a look at our available deals and if you have any specifics request do not hesitate to contact us - whatever your request, we will do our best to make it work.