If you are a Facebook fan then you might have caught sight of our newest team member, Lucy sporting a shimmering pink pair of California Classic sunglasses over the weekend. Not only did the post go viral, it made quite an impression on our fans! For those of you who don't know, Lucy is our most cherished CTS Team member; all 3.5 pounds of her! Lucy Lou Bachelder is not only the youngest and smallest member of the team she is, to date, the only four-legged member on staff. If you'd like to meet Lucy, check out her Facebook profile here. Lucy is a rare light haired Yorkie, with a flair for Customer Service, undoubtedly a natural gift that is immeasurably valuable to the Team as a whole! Everyone here at CTS adores Lucy, and our customers do too!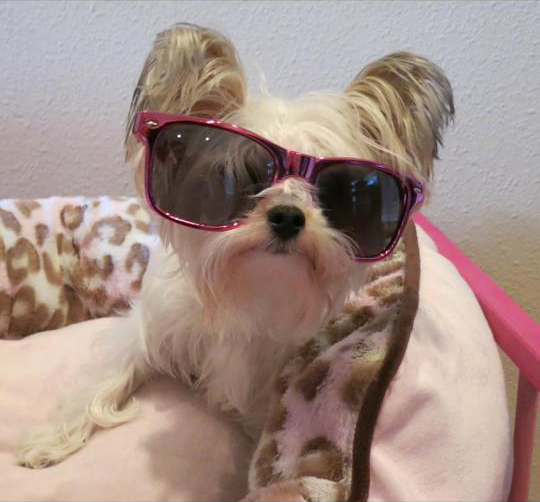 In this adorable photo, Lucy is wearing one of our returning favorite California Classic styles, 9001. This is a classic with a shiny twist! This model boasts metallic frame coloring. Each dozen includes a few of each; a lovely pink, green, gold, silver and blue frame colors. In addition to being back in stock, you might notice something even cooler, a new lower price of just $18 a dozen! Lets face it, in this economy, it's a rare treat to see a price do anything but increase, and 9001 isn't the only one do have done so. Several of our more popular California Classics have seen this price drop, and we hope it makes you as happy as it does Lucy! You'll find that our Black California Classics are back in stock as well, with the new lower price of just $18 a dozen, as well as 9039, 9018 and many more favorites.
Why California Classics?
California Classics have been reported to be the best selling sunglasses of all time, and with our unbeatable wholesale pricing of $1.50 per pair, you really can't afford to pass up the sales opportunities. Or if you're like Lucy, you might just find that you need a pair for every outfit too! This style of sunglasses has been an all time favorite for decades, and thats no lie! It seems that this style is an iconic design that is as popular with young adults as with mature adults, male or female. It is an indisputable fact that this style is a top seller the world over, which is why California Classics are a must have for your mall kiosk, display rack or personal collection!
Which California Classics?
Shown below is an outfit Lucy wore for our 4th of July photo shoot, can anyone think of which pair of California Classics she's missing in this photo? Show off your CTS product knowledge and leave us a comment below! Which California Classics does Lucy need?