California Classics are among the fastest selling styles of sunglasses, and it's no wonder why. With an undeniable ability to go with any style or fashion trend, and a basic appeal to both men & women, classic sunglasses maintain their long standing position as a front runner in sales. Whether it's a classic black, a wild animal print, or a particularly Crazy California Classics model; they continue to sell, and sell really well.
This summer has seen an incredible expansion in the array of possible colors and combinations that California Classics sunglasses can be found in, and the feature model of this post merely proves the point. Here we have a winning combination of a trending new frame in conjunction with another hot trend; vibrant flash mirrored lens coatings. Ah...but thats not all, this model takes it up a notch with-dare I say-a never seen before mash-up of the best kind! Wacky with a splash of wonderful; introducing striped flash mirrored lens with clear frames!
Clear California Classics in their own right have blown away most all of the competition when it comes to popularity and sales, but let's face it, the only way to beat a best seller is to make 'em better! And that's just what we've done with these super fun new shades. If you look closely you'll see that these bad boys have a diagonally striped mirrored lens that alternates between the 2 most common colored mirror coatings. Yellow/Gold and Blue/Green, which have the iridescent quality of shimmering between their respective colors. The frames are clear, but that's not all; each dozen comes with the following temple colors; neon pink, neon green, white and last but not least, all clear. The best part? The stripes don't effect vision, since they are accomplished with mirrored coatings*.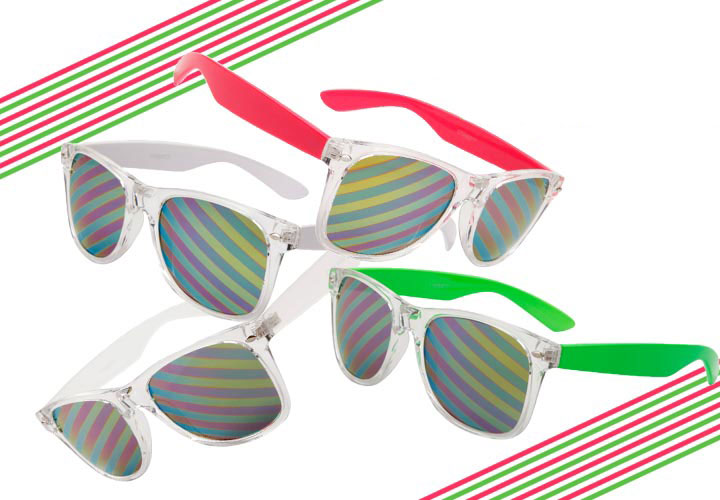 *Safely, the vision is over 95% unobstructed by the striping.