Posted by Jim Connolly on 2nd Dec 2015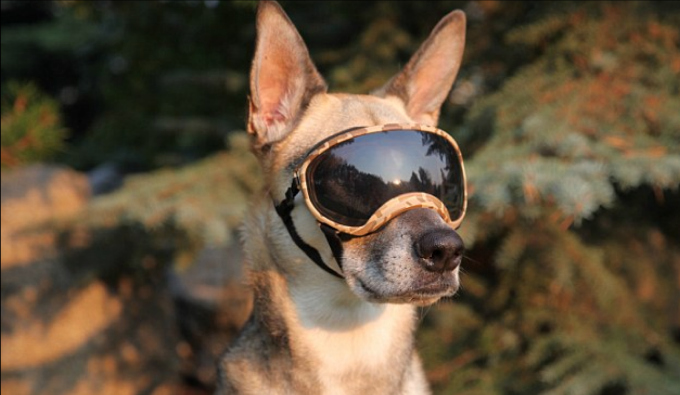 In the past, I've shared stories with you about all kinds of sunglasses. Including one story about a cat, who became a reality TV star wearing glitzy sunglasses. Well, today it's time for dogs to get some sunglasses-related love.
Sunglasses for dogs
Rex Specs, a Wyoming based firm, has developed a range of sunglasses for dogs. Okay, they look way more like sun-goggles, see above. However, although they look cool, they're actually a lot more practical than fashionable.
The idea came from Rex Specs founders Aiden Doane and Jesse Emilo. The dog loving couple also share a love of the beautiful Wyoming mountains and often took their dogs on treks with them. As a result of the challenging conditions, both of their dogs (a Husky and a German Shepherd), developed unpleasant eye conditions.
The Husky suffered with extreme sunburn around the eyes. The German Shepherd developed something called Pannus, which is an eye inflammation. Both conditions are caused by the sun's UV rays. Protective sun-goggles would greatly relieve the ailments, but after much searching, the dog's owners were unable to find a good enough solution.
How a business was born
Apparently, at the time, the only solutions they could find either didn't stay in place (which is essential) or they had too narrow a field off view, which restricted the dog's overall vision. This inspired the dog lovers to make their own doggy eyewear, from materials they had around their home.
This has moved on greatly and they have now created a final product, which is made from a comfortable foam frame, with a single, wide polycarbonate lens. As you can see from the photo above, the sun-goggles are designed to snugly fit the dog's muzzle, whilst allowing the dog to easily open its mouth for eating / drinking etc.
If, like me, you're a dog lover, you'll know that some dogs are not keen on having anything attached to them. Especially their head. The Rex Specs website acknowledges this and says that well-trained dogs are more likely to accept the sun-goggles without too much aggravation. However, they clam that given enough time and training, any dog can be trained to wear the goggles. They add that currently, the doggy sunglasses are only available for larger dogs, though they plan to make them for smaller dogs in the future.
Over the years, through medical and dietary advances, dogs are living healthier and for longer than ever before. I see this kind of product as a natural extension of the way we care for our four legged friends, if we live in areas where their eyes are likely to be exposed to high UV, wind and dust. In short, anything that helps dogs stay healthier and happier, is good with me.
Wholesale sunglasses
… is what we do. It's our passion, just ask our retailers! if you are a retailer who either stocks sunglasses or wants to become a stockist, CTS Wholesale Sunglasses are here to help. Just email us or call us, using the contact details on the top right of this page.
We look forward to hearing from you!
Photo credit: Rex Specs / Barcroft Media