Posted by Marie on 22nd Feb 2016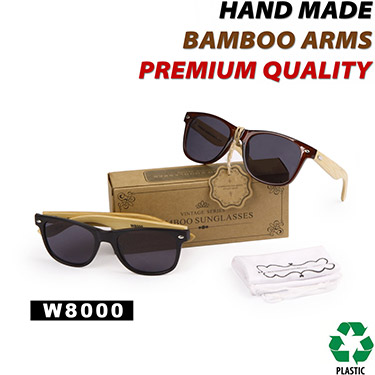 As models strutted their stuff down the runways for 2016 Spring fashion shows, one thing was abundantly clear – the days of minimal sunglass designs are over. Designers are now focused on maximizing stylistic cues with eye-catching colors and shapes. Just as the sun started to peek through the clouds, celebrities donned the flashy sunglass styles in an attempt to become the talk of the town. You can also embrace this stylistic change by selecting eyeglasses with the perfect mix of the following ostentatious design elements.
Flashy Frames
Extravagant frames with incredible embellishments are the name of the game for spring. Extended frame elements can bring the designs back to the cat-eye period and into the future with heart or lightning shapes. Some designers even blend these modern and retro looks to create their own unique styles. The frames may utilize interesting materials, including wood grain and stamped metal, to further separate them from the competition. The frames also feature a multitude of neon and pastel color combinations in fun patterns, including gradual ombre' and abrupt two-tone styles.
Bold Shapes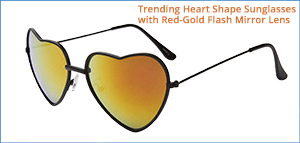 Although sunglass frames feature showy adornments, the lens shape remains the main focus. Sunglass designers are building their designs around lenses in the shape of exaggerated circles, triangles, and squares. The use of beveled or rounded edges increases both comfort and function of these incredibly stylish eyewear pieces. The oversized lenses create a foundation for sunglasses that extend from above the eyebrows down to the top of the cheekbones.
Colorful Lenses
The bold lens shapes come in colorful hues that complement the flashy frame styles. The black, brown and gray tones of yesteryear are replaced with yellow, orange, blue and purple. You can even snatch up a pair of rose-colored sunglasses for an interesting perspective on the world around you. Each of the lens colors reduces eye strain in a variety of situations, from sitting indoors at the computer or gazing across the landscape in bright light. For an additional "wow" factor, the lenses may have a color-changing or mirror finish emblazoned across the front surface.
Since each sunglass style accentuates a particular face shape, you must try on each pair you fancy either in person or digitally. Focus on the way the sunglasses balances your facial features. You can purchase multiple styles to match your favorite handbags, shoes or jackets. With so many retro and modern options available, the choice is yours to pick up a timeless design or complete your look with a truly trendsetting style.
Wholesale sunglasses
… is what we do. It's our passion, just ask our retailers! if you are a retailer who sells sunglasses or wants to find some super cool shades, CTS Wholesale Sunglasses is here to help. Just email us or call us, using the contact details here.