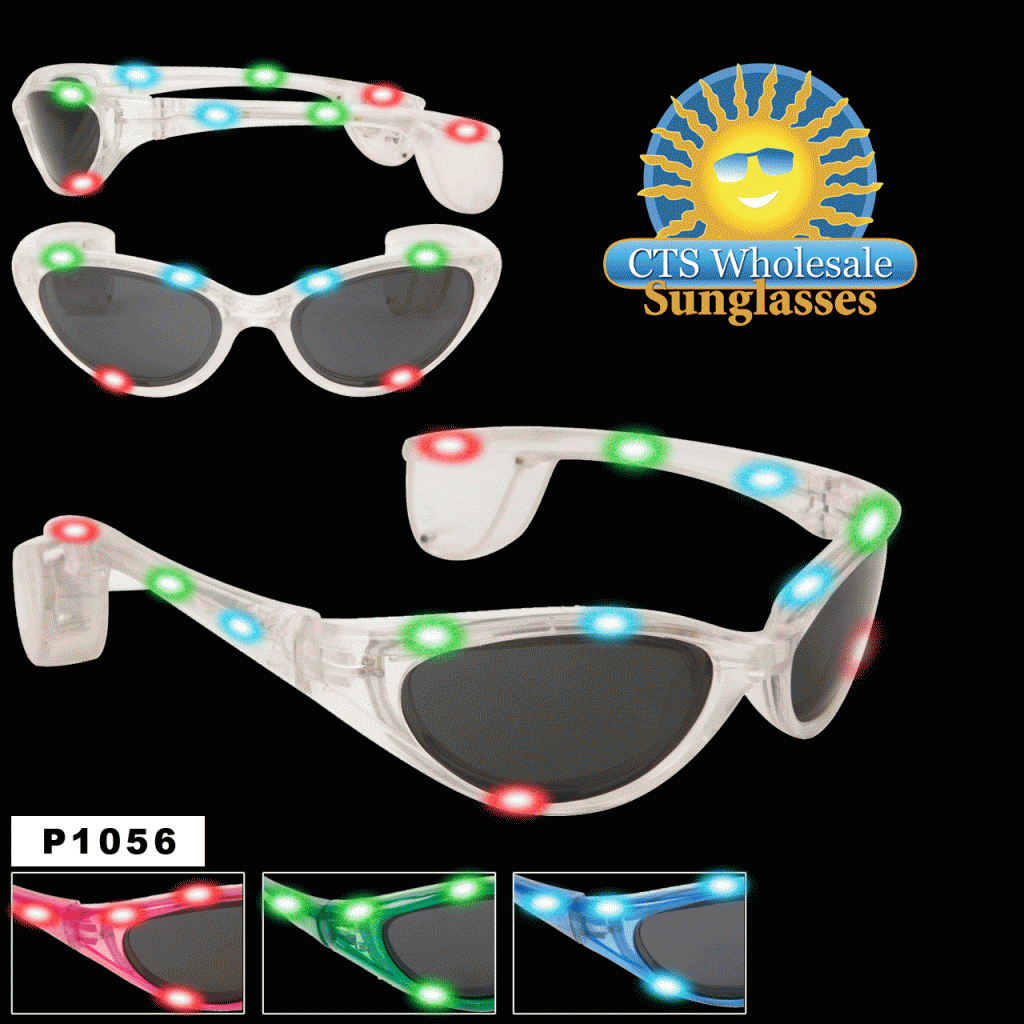 Brand new, super cool wholesale flashing sunglasses form CTS Wholesale Sunglasses are a great idea for any kind of nighttime party, and actually are still fun in the daylight! We have just added several fun new light up sunglasses this week, and we are anxious for you to love them as much as we do! If you would like to see the flashing quality of the lights you should click on the image, and then you have two options. The first option; you can simply mouse over the image from the product page, or you can click on the image again and it will open in up a large window which will demonstrate the flashing.
All of the wholesale flashing sunglasses come with batteries already installed, and ready to go. All you need to do is push the little black button to turn them on. (You will need to remove the protective slip of clear plastic)You have three separate flashing abilities too. One click of the black button will initiate the fast flash option. A second click will take you to the slow flash, and a third click will simply turn the lights on solid; with no flash what so ever. Pretty cool right? Wait because it gets better! As always, our prices just can't be beaten! Our new flashers start at $36 a dozen, which is only $3 a pair!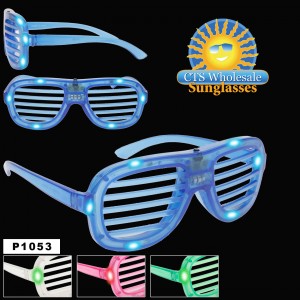 As previously mentioned, we have added several new styles of flashing sunglasses. We have always had a nice looking style that is reminiscent of a classic sports sunglass style. This assortment comes in clear, red, blue and green frames w/coordinated colored lights. Now we have some very neat alternatives. We have flashing shutter shades in stock now, and that's just for starters! We also have some very pretty butterfly shaped frames that light up, skull flashers, and heart shaped light up sunglasses too! There are now several sports styled light up sunglasses to select from also.
If you haven't checked out these new alternatives yet, do so soon!