Announcing all new floating sunglasses, with polarized lenses.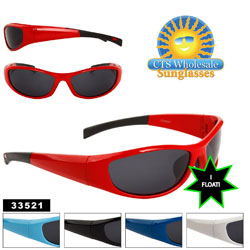 We all know the value of a polarized pair of sunglasses, and not merely monetarily. Due to the glare blocking ability of the lens, polarized sunglasses are a preferred selection for avid fishermen, allowing them superior vision on the water.
Floating Polarized Sunglasses are--without a doubt--ideal for fishing.
Considering fishing requires large bodies of water, and depending on the fish your after, fast-moving water as well, it's fair to wager that floating sunglasses would be a fisherman's ideal pair of ray-blockers. In fact, it'd be a rather safe bet to say that a pair that that float would be the ultimate in eyewear.
As always, CTS offers their sunglasses wholesale, by the dozen. You'll find item # 33521 (shown to the right) comprised of 12 pair of floating sunglasses with polarized lenses, in five frame color options. Red, light blue, dark blue, gloss black and white. This model features a soft rubber nose padding and temple ends in a light-weight sporty frame style, which will also enhance their ability to stay in place while reeling in that record setting big mouth bass.
Typically a pair of floating polarized sunglasses retails anywhere between $17.95 -- $50.00. Our's sell for $38.00 a dozen, making them a mere $3.16 per pair. For retailers there is a nice profit margin to be had, and for personal shoppers this is a phenomenal value. Click here to view our newest wholesale floating polarized sunglasses.