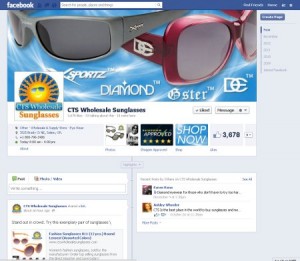 If you are not yet fans of our Facebook page you should take a second out of your day to Follow us on Facebook.
Not only will we provide you with all the updates CTS Wholesale Sunglasses has to offer, from new blog posts to new merchandise, but also we occasionally offer specific deals available only to our Facebook followers.
Our Facebook page is a great place to keep updated on all the goings on at CTS Wholesale, with updates on our new product lines and contests, when they become available. It is also a great place to get in contact with us for any questions you may have.
With over 3,600 likes, don't miss out on the action and Follow us on Facebook today!
Something new we have done on Facebook is setup a reviews system. You can see our reviews people have left us after placing an order through our website good and bad. So far they are good check them out by clicking here.