California Classic shades are one of the all time best selling sunglass styles! Maybe because they are worn by both men and women, or maybe because they just look so good, either way they ROCK the sales tables! California Classics undoubtedly dominate the world of sunglasses. So here at CTS Wholesale Sunglasses, we are constantly expanding our already huge selection of California Classics.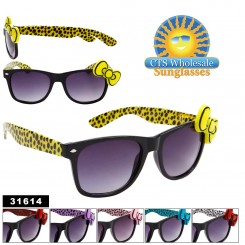 If you're looking for unique classics, we recently added several fun styles, such as polka dot classics, with bows! We also recently added an assortment that offers eight different colors, from white all the way to black, and a rainbow of colors in between. For animal print lovers there are classics in zebra stripes, leopard spots, snakeskin print, and just about any animal print you can think of. There are ones that sparkle with rhinestones, that are super dark tint and so many more.
There are California Classics for kids, for her or him, and best of all there are hundreds that are perfect for both! We have many assorted dozens that have been packed to appeal to men and women alike, which is very beneficial for retailers.
Another wonderful thing about our California Classics is the awesome low prices! We have dozens that start as low as $19, with breaks down to an amazing $1.58 per pair! You just can't go wrong with prices that low. So whether you're shopping for yourself, or if you're selecting styles to retail, they're a great place to start. They truly are a great selling style and we have a wonderful selection of them. Since we don't have a minimum order requirement, you can buy exactly what you want and still get a great deal!
You may be interested in learning more about the history of Ray Ban wayfarer sunglasses at Wikipedia.
2014 Update:
In recent months we have expanded our selection of wholesale California Classics exponentially! We literally have the largest online selection. You can now find solid color dozens, in addition to mixed color dozens. You'll notice many of them also have spring hinge temples too. If you haven't yet, take a look at the selection available. Retailers will appreciate the speed in which these sunglasses sell!
California Classics are an absolute must-have for any reseller.