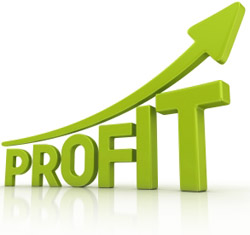 If you have an existing business, like many other businesses today, you may be feeling the effects of the slowed economy. Although it may seem that people are not buying as much as they once used to, increased profits can still be made.
The majority of business owners immediately think that they need to come up with some kind of plan to increase their customer base. What they may be overlooking is the potential to increase their profits with existing customers.
It is always easier to increase revenues by focusing on existing customers.
In the long run it can prove to be more profitable than spending the time and money it requires to attract new customers. Although you should continue to attract new customers, a greater focus should be placed on increasing profits within your existing customer base.
Here are 7 Ideas to Increase Profits with Existing Customers:
1. Offer New Products
One of the simplest ways to increase your profits with existing customers is to increase the selection of products you offer. Just take a look at any of the Super Stores today. Where once you would go to a store to buy tires and hardware, you can now pick up a dozen eggs, a gallon of milk and a new pack of socks. This may be an extreme example, but by adding additional products to your line you can increase your profitability.
2. Customer Survey
When it comes to selecting the new products to offer you have a choice to make. You could opt to play the costly hit-or-miss game of randomly selection new products. Better, you can take the more direct route and simply ask them. Most people are willing to take a few moments to complete a short survey. Offering an incentive such as 15% off their next purchase is a terrific way to encourage completing the survey. An online contest allowing customers to vote on a selection of new products you'll potentially carry is another way to find out what your customers are willing to spend money on.
3. Upsell
The upsell is a no-brainer, and if it's not already a policy within your business, then it should be. The key to properly utilizing this technique; offer an additional product that is not only relevant but, a fraction of the cost of the current purchase. The less the customer has to think about the option, and the price, the more likely they are to agree. Perfect examples of effective upsells include when you're offered extended warranties, or when your local fast food joint asks if you want to supersize your combo order.
4. Offer Complementary Products
Part upsell, part sales, offering your customers complimentary products can also help to increase revenue. If you do not already have a line of complementary products, think of things your customers may need in order to fully utilize your products. For example, here at CTS Wholesale Sunglasses we offer a wide variety of wholesale sunglasses to retailers for resale. As a complementary product we also offer sunglass display cases that retailers can use to display their sunglasses in their store. A nice display, whether for sunglasses, lighters, or hats is a proven sales increaser. This is true for any product.
TIP: A great way to increase sales of sunglasses, and stand out from competitors is to offer free complimentary microfiber bags for sunglasses as well. Complimentary, and complementary is a win-win, and our microfiber bags are priced at just $3 a dozen, making it affordable and profitable.
5. Develop A Customer Loyalty Program
If you don't already have one in place you should. A customer loyalty program will increase revenue simply by enticing customers to come back for return purchases. A loyalty program in its simplest form rewards frequent buyers. Take your local sub-sandwich shop for example, after you buy 'X' amount of sandwiches you get the next one free. You can develop your own loyalty program with any number of rewards. You will know best what method best suits your business model.
Free Items (Give-Aways)

Discounts on Following Purchases

Buy "X" number ~ Get 1 Free
6. Offer Promotional Incentives For Referrals
A great way to increase sales with new and existing customers is to create an incentive program for referrals. Simply put, for every successful referral that an existing customer provides, they receive some sort of promotional discount on their next purchase. In the case of a service, the promotional discount can be applied to the current project.
7. Keep In Contact
Existing customers are really your bread and butter, so you should do everything in your power to keep them happy. Simply staying in touch will not only help ensure a sense of loyalty, it has the potential to entice repeat business sooner that anticipated. Great ways to stay in touch include:
Occasional Emails

Phone calls

Hand written notes (which really adds a nice touch in this era of digital communication)
The key is to not use this opportunity as a high-pressure sales tactic. Be sure not to overload them with the number of contacts you send. The occasional note and greeting cards at holidays should be plenty.
These are just 7 ideas to increase profits with existing customers. What are some of the techniques that you're already using with your own customers? Leave us a comment below if you have any additional ideas that should be added to this list. We would love to hear from you!