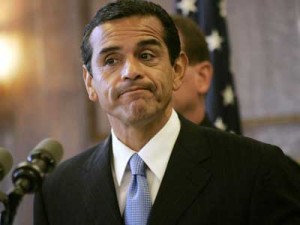 Antonio Villaraigosa: Not a fan of sunglasses
In early December of last year, L.A. City Council voted a unanimous 12-0 on a new ordinance banning the sale of wholesale sunglasses and other "non-expressive purpose" items, such as clothes, incense, candy, crystals, oils, jewelry and toys on the west side of Ocean Front Walk in Venice Beach.
Although the new ordinance limits the items available for resale, vendors will still be able to sell many of their other artistic works they have created, including books, paintings, recordings, and sculptures.
Those wishing to continue to sell prohibited items, such as sunglasses for wholesale, will be in violation of the ordinance and can face stiff penalties.
The first offense will run you a $100 fine. The second can be punishable with a fine of $250 or prosecution as a misdemeanor, which is punishable with a fine of up to $1,000 or up to six months in the county jail, or by both fine and imprisonment.
The new ordinance goes into effect on January 20th, 2012, where the LAPD can start handing out fines. However, Lt. Paola Kreefft of the LAPD's Pacific Division says that the authorities will be first warning vendors before they are cited.
"It's not like the signs will go up and we're going to sweep the boardwalk," Kreefft said. "We'll issue warnings if they return, and then cite. And then if we have to, we'll make arrests."
For those vendors that sell sunglasses, we wish you luck and hope that you can sell your stock before the ordinance kicks in.