About Lady Gaga
Lady Gaga is a by all accounts one of the most controversial musicians around. Love her or hate her, chances are that you have seen her name in headlines at least once this week already, and it's only Wednesday! Lady Gaga inspires, entertains and ignites the rumor mills with her antics and her indisputable talent.
Born Stefani Joanne Angelina Germanotta, on March 28, 1986, she is known as a very talented and successful performer, record producer, businesswoman, fashion designer and activist as well as philanthropist. Cited as one of the highest grossing musicians in the world for 2012 by Forbes Magazine, with an impressive $52 Million!
Her Fashion Style
Whether you're discussing her music, her performances, or her wardrobe, you will rarely run out of things to talk about. Of the hundreds of outlandish ensembles she has strutted the stage wearing, possibly one of the most talked about was the meat dress worn in 2010. Every Award Ceremony, guest appearance and concert will find Gaga in the throws of a very loud, and frequently very skimpy fashion statement of one sort or another. Rarely will you encounter a more entertaining wardrobe.
Most often, Gaga's accessories are the icing on the cake, perhaps literally as well as figuratively! Her choice of headgear and masks are even more outrageous than any given outfit. Take for instance, the fact that most often she is wearing never before seen masks, hats and or sunglasses.
Find Styles Inspired by Lady Gaga
Her look inspires fashion trends the world over, and well it should! Rarely do we witness a celebrity the likes of Gaga that is so expressive with her clothing selection. Hats off to Lady Gaga! Keep surprising us!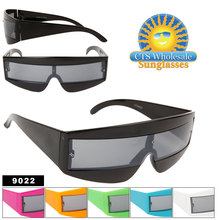 If you've been wondering where to find a pair of sunglasses like she wears, check out our selection here. We have several styles inspired by the Queen of Shock, such as style 9022, (shown to the left) which is a futuristic design, available in hot pink, orange, lime green, blue, white and black. Another Gaga inspired style, 9037 features a chain that crosses the frame front. Style 26713 is an over glasses style covered in black lace. Each of these are shown below.
To view all of our Lady Gaga Sunglasses

click here