It's tough to stay on top the latest fashion trends, unless you subscribe to Vogue magazine or any number of other fashion magazines. It's even harder to anticipate what's going to sell well this season. Being adept at gauging the ever-changing fashion world is something some people are born with a knack for, or it might be a honed skill; developed over twenty years of experience in the wholesale fashion sunglasses industry. Here at CTS Wholesale Sunglasses that is exactly why we're the leading online source for all of the most popular sunglasses. This is where you will find every hot selling style of popular sunglasses, and the best part is that they're sold at incredible wholesale prices!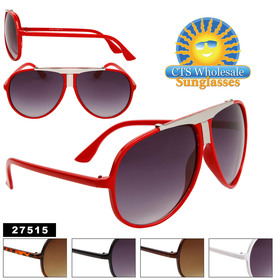 So what is hot this year? We've had phenomenal success with several new adaptations of the classic Aviator styles. Cee-lo green has been seen sporting a very quick selling style that has a slightly oversized lens, and we have a nice variety of these in stock now. Another popular sunglasses style is, of course, the over sized celebrity sunglasses. These have actually dominated the fashion world of popular sunglasses for quite some time, which as we all know is an impressive feat! Somewhat newer styles of popular sunglasses are the styles with a new frame material; a transparent colored frame that is available in gorgeous shades of purples, teal greens, maroons, and many others. These are flying off the sunglass racks! Every where I go I bump into someone sporting these, and the best part is this new transparent frame is available in all of the already popular sunglasses! And let's not forget the zebra print sunglasses! O man are these popular right now!
If you're looking to offer your customer's today's most popular sunglasses, check out all of our New Arrivals, and you'll have no trouble finding exactly what you want. Our sunglasses are all packaged by the dozen, in great looking and ready to use display boxes too; so set up and retailing is a cinch. But if you're seriously considering expanding your selection consider investing in a nice display; we have display starting as low as $9, and you'll love what they do for business!