That's right, CTS now carries several new glow in the dark sunglasses, in a variety of styles. We have the summer's best sellers ~ California Classics with glow in the dark frames, we have clear lens California Classics & even fun shutter shades that do too!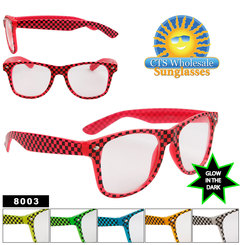 Next we have another two that are fairly similar as well; checkered California Classics in bold colors. # 8003 has a nice tinted lens, while # 8002 comes with the standard smoke tint lens choice. Each selection comes with an assortment of 6 frame colors in each dozen.
# 8000 is a bold Zebra striped frame, in colors of yellow, orange, blue, hot pink, lime green and white. All of which, you guessed it, glow in the dark! To see these , click here.
In addition to the aforementioned selections, CTS also has several styles of shutter shades that glow. And to make it easy for our customers, we've created a convenient new category, Glow in the Dark Sunglasses. You'll find this category inside of "Novelty" on the CTS website.
We will be adding more in the near future, so be sure to come back and see what's new!