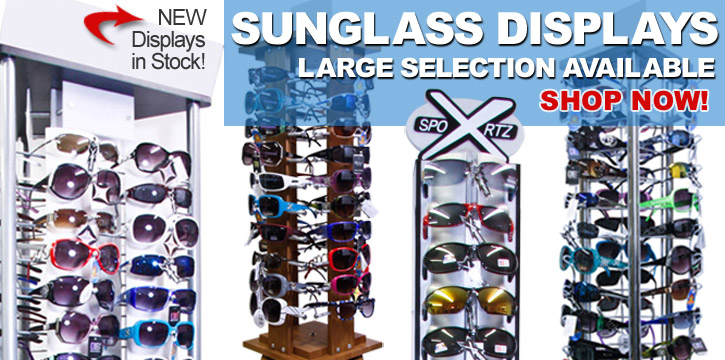 CTS has added several very attractive new display solutions for sunglasses, if you haven't checked them out do so soon! There are terrific space saving solutions for any location, and the features that these sunglass displays boast will please you and your customers. It's a known fact that an attractive display really will boost sunglass sales, and these great new sunglass displays are just the thing to catch customers' eyes!

Of the newest additions to the already large selection of wholesale sunglass displays available at CTS, there are counter top displays, floor models and a brand new Xsportz Brand Sunglass display. Several of the new additions feature locking racks, with independent keys for each rack. There are also sunglass displays with swivel bases that feature cabinets. Xsportz™ sunglasses display is currently out of stock, but you'll find several similar models in stock now.
CTS now offers a Floor Model that holds 120 pairs of sunglasses, with an innovative swiveling feature on dual rotating racks in a triangular shape, and a cabinet in the base. This sunglass display also has mirrors for customers, which is always a nice touch!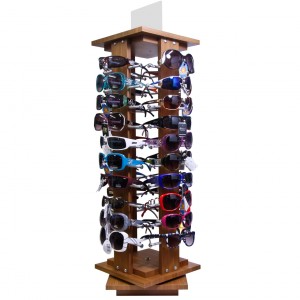 There are also several all-new wood sunglass displays; from sunglass display stands that holds 12 pair, to a floor model with a very attractive rotating base. There is a great space saving wooden, rotating counter top display too, which holds 40 pair and is only 37.5 inches tall. This display is a terrific way to economize on available space. Another new display option is a very versatile sunglass display that actually allows you the ability to select between a silver or black backing. This is available in counter top and floor models, each are rotating sunglass displays as well.
If you haven't yet, be sure to check out all the new additions to CTS's sunglass displays selection. The CTS Team is available for fast, friendly service and is able to offer you same day shipping!