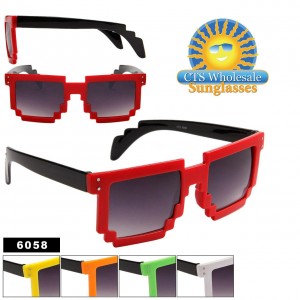 Looking to stand out in a crowd? Slip on a pair of the new pixel sunglasses and get your geek on! If you haven't seen them yet, sneak a peak at the whacky and wonderful pixel sunglasses brought to you by CTS Wholesale. These freakishly geeky, highly quirky sunglasses are the latest trend in radical eyewear. And it goes without saying that these babies are sure to turn heads everywhere you go.
Pixel Sunglasses: Clear & Tinted Lens
You get your choice of clear or tinted lens, with a nice assortment of colors. Every pair features black temples, with complimenting colors ranging from lime green to bright red frames. Each dozen has six color combinations, and comes with our 100% UV Protection guarantee. Our wholesale price is $18 per dozen.
Don't miss your chance to get your geek on with these super cool new sunglasses! Get yours here.