Posted by Jim Connolly on 27th Jul 2015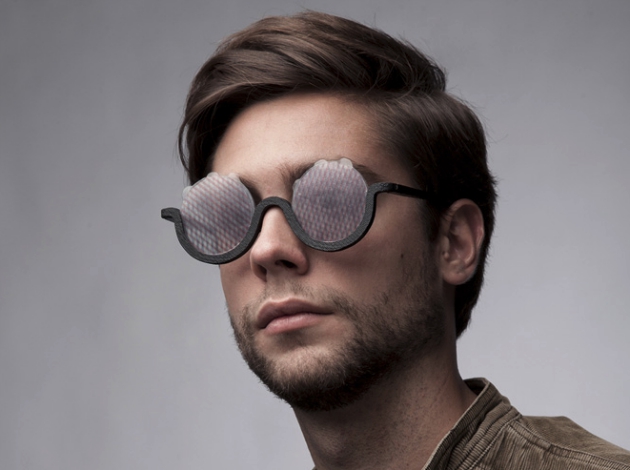 News reached me a few days ago of a truly original sunglasses design. They are the brainchild of artist, Bence Agoston from Hungary. And when I tell you about the sunglasses he has created, it could just blow your mind.
Sunglasses that simulate LSD hallucinations?
Okay, the "blow your mind" statement is a cryptic clue as to what I am about to share with you. Bence has designed what have been called "A pair of sunglasses that simulate LSD hallucinations". I told you these were unique, didn't I.
The frames are 3D printed and look, as you can see above, a little different to any regular frame design out there. However, the frames are very much a secondary feature with these sunglasses. That's because the thing that sets these sunglasses apart from the rest, is the unique lens system. Allow me to explain.
Moods sunglasses
The sunglasses are called "Moods" and they come with 6 lenses. Each lens is themed on a different Moiré pattern, which filter RGB (red, green and blue) light. The user can place 3 lenses in front of each eye, to create weird, psychedelic effects, when looking at the world around them. If you look at the photo above, you will see that the frames do not cover the top of the lenses. This is because the user is supposed to slide the lenses around, so that they create a psychedelic effect, which suits their mood (hence the name of he design). If you look closely, you may just be able to notice the tabs on the top of the lenses, used to slide them.
As you'd expect, these sunglasses are not intended to be used the way someone would use regular sunglasses. Let's face it, could you imagine yourself wearing these on a cycle ride? Agostron says the ideas scenario for wearing Moods, is during travel, when the user is listening to music and watching the world go by.
I have to admit that when I first heard about Moods, I thought they were different for the sake of being different. But I was wrong. There is something extremely cool about being able to adjust your view of the world around you — especially when relaxing during a flight or long train / bus ride.
This is a clever idea and something that could make travel time a lot more interesting.
We love sunglasses!
That's right, we're passionate about sunglasses -- just ask our retailers!
This is why CTS Wholesale Sunglasses is here 365 days a year, to help retailers provide high quality products to their customers. If you're a retailer and you would like to know more, use the "contact" link at the bottom left of this page. We look forward to hearing from you.
Image credit: Bence Agoston on Behance.