The 4th of July is right around the corner! Fireworks, BBQ's, for many even Rodeo's signify the much anticipated event of the summer season; Independence Day! It is a time to celebrate the birth of a nation; good food, family and friends.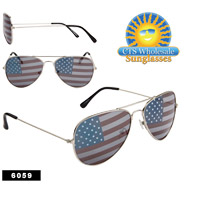 With any luck at all the sun will be shining across this great nation, and sales will be up. The spirit of celebration is in the air, and every retailer knows that a good mood equals good sales.
Making the most of potentially higher sales is easy if given some forethought and advance planning. Impulse purchases are made even quicker when geared for any holiday, and the 4th of July is no exception. This post will give you helpful selling tips for the 4th of July.
Selling Tips for the 4th of July:
Stock Patriotic Items in Advance:
Locate and stock up on merchandise that relates to the anticipated holiday. CTS has developed a convenient category that will assist you in finding terrific products geared for The 4th of July.
Great impulse items for Independence Day are sunglasses, baseball caps & lighters.
With the sun shining much of the time, people are always in need of a defense from the sun's rays. Sunglasses and baseball caps are both great ways to do this. Another good impulse item; lighters! Even non-smokers are looking for a way to light the fuse for the endless supply of fireworks.
Showcase Patriotic Products in Prominent Location:
Create an attractive display. As with any good sales strategy, it is imperative to display the available merchandise in an attractive manner. Additionally, placing seasonal items in a location that is sure to be seen is paramount. Retailer's often times find that near the cash register is a terrific place to put those items. While waiting to check out is a good place, however anywhere that garners significant foot traffic is considered beneficial to sales.
Run a Promotional Sale:
As the celebrated day draws nearer, it is a strategic move to run an impress promotional sale. For instance, if your sunglasses are regularly $12 per pair, consider offering 2 pair for $20. Everyone enjoys sharing the spirit of the holiday, and what better way than to pick up an extra pair of Patriotic Aviators for their buddy?
CTS wishes all a safe & fun 4th of July celebration!