If you haven't encountered avid snowmobile competitors, that may soon be changing. This is quickly becoming a major sporting event, and many anticipate it soon becoming an Olympic sport for Winter Olympics. Recently added to the popular X Games sponsored by ESPN, in addition to numerous local competitions, this winter sport is gaining much main stream popularity; both as a spectator sport and as a participant.
There are two significant styles of competition, racing and freestyle. Extreme snowmobiling has become a chief component of extreme sporting competitions. Similar fundamentally, or frequently referred to as insane, stunts performed by freestyle motocross participants. Witnessing an approximately 450lb machine hurdle into the air, flip and miraculously land upright is undoubtedly exhilarating to both the spectator and the rider to be sure. These tricks are performed frequently on either natural terrain or man-made ramps, throughout backcountry areas.
Competitions for extreme snowmobiling are usually held at or near favored winter resorts the likes of Jackson Hole, Wyoming and Aspen Colorado; which is home of the Winter X Games 2013, and other popular resorts. And surprisingly, when weather is not conducive to true snow based competitions, die-hard competitors will make due with grass or soft dirt terrain based courses.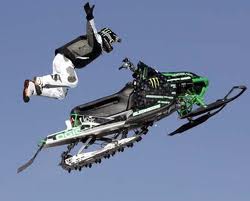 One of the largest competitions occurs during the month of January, in Aspen Colorado, which is host to the 2013 Winter X Games, the 11th year running. Beginning on January 24th, on Buttermilk Mountain, this four day event will be televised by both ESPN and ABC, with 20 hours of HD winter games being aired. Both Freestyle and Snocross athletes have been invited to participate in the games this year. Among those currently slated to appear Daniel Bodin, Levi LaVallee, Justin Hoyer, Caleb Moore, Colten Moore and Joe Parson fill the Freestyle roster. While the Snocross roster is showing Tucker Hibbert, Levi LaValle, Ross Martin, Robbie Malinowski, Tim Tremblay, Darren Mees, Emil Ohman, Justin Broberg, Logan Christian, Kody Kamm, Cody Thomsen and Kyle Pallin. There are also Adaptive Snocross and Speed & Style rounds of performance as well, in addition to Best Trick. Impressively this years X Games is the kick-off for a 6 stop global tour. Continuing onto Brazil, Germany and Spain, in addition to preexisting stops in Los Angeles, Tignes and of course, Colorado.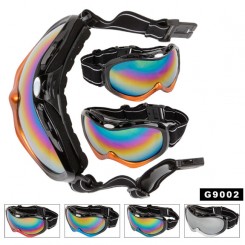 While competing in this exhilarating snow sport, most every participant protects his or her eyes with high quality ski goggles. Some prefer mirrored lenses, that reflect more glare, while others prefer to use a tinted gradient lens. No matter the lens quality they are adamant that the goggles be 100% UV protective and posses a durable elastic headband, ensuring a snug fit.