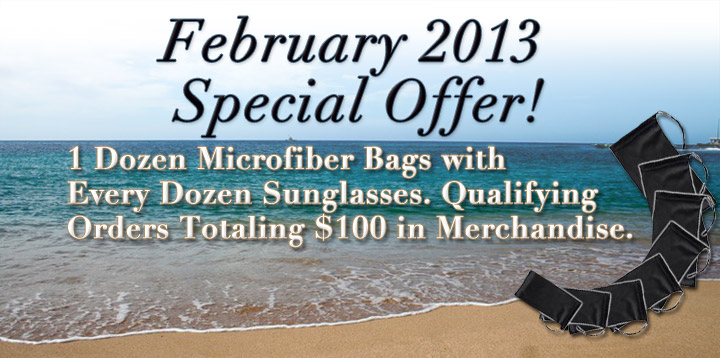 During the month of February 2013 CTS will be giving customers a dozen of Microfiber Bags with every dozen of sunglasses ordered! To qualify for this special promotional offer, just place an order totaling $100 or more of merchandise, and for every dozen sunglasses within your order, you will receive a complimentary dozen Microfiber Bags! Whether you are ordering baseball caps, lighters or any other of the hundreds of products available via our online store, if your order total reaches $100 (prior to shipping and handling) you will receive these complimentary microfiber bags for each dozen sunglasses you have ordered.
Microfiber Bags are convenient storage devices for sunglasses with a dual purpose! They also double remarkably well as a handy cleaning cloth when you're out and about or on the run. The bags measure approximately six inches by three and a quarter inches, and have a drawstring closure. They make an ideal 'freebie' to offer potential buyers, helping you to stand out from your competition too. Not to mention the many other uses! They make terrific totes for MP3 players, portable hand held devices, or make up, you name it, if it fits it works. If you have a special use for our bags, leave a comment below and share with us! We would love to hear it.
February is also the month of Love, and CTS has many products that will sell well between now and Valentine's Day. If you would like to view our selection of Valentine's themed merchandise, you may click here. You will discover sets of Steel Oil Lighters covered in hearts and love, in addition to heart shaped sunglasses, and much more.
Please note that this special offer is only good for the month of February 2013 and cannot be applied to any previous or future orders.