Everyone's heard of Zippo Lighters, the first wind-proof lighter originally developed in 1932 by George G. Blaisdell. Originally, these innovative lighters sold for a mere $1.95! Four years later, one was able to have their lighter personalized via engravings and/or metal insignias. However the lighter wasn't in fact patented until March 3rd, 1936.
Today, the Zippo Factory in Bradford, PA produces an impressive 80,000 lighters each day. Amazingly, each of these lighters are guaranteed with an unconditional lifetime guarantee. Since 1932, Zippo has manufactured a staggering 5 million lighters. In 2008, Zippo reported just under 700 employees at their Bradford, Pennsylvania factory.
Alternately, Star Brand Lighters began production in 1988, and today boasts over 260 million lighters have been manufactured. Star Lighters also offer a lifetime warranty. Employing around 600 people, the Wenzhou Company has three factories. Inserts are manufactured in Guangzhou, and in two separate factories brass and oil lighters are manufactured. There are 60,000 Star Lighters produced monthly. Where Zippo is at home in the U.S., Star respectively dominates in Europe, while 65% of their sales are within China. Beginning in 2009, Star expanded sales to include Canada, Brazil, Argentina and the U.S.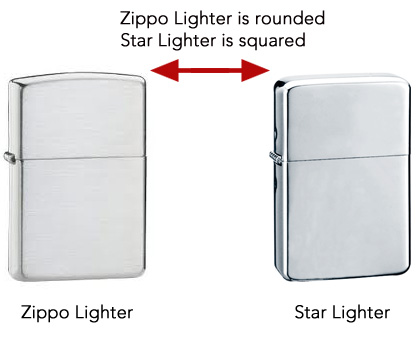 To the trained eye it is easy to discern telltale differences between a Zippo and a Star lighter, however basically they are much the same. Each operates on the flint-wheel ignition of a wick that contains lighter fluid. Each lighter has replaceable wicks and flints, allowing for them to truly last a lifetime, thus the lifetime guarantees. Each come in a plethora of finishes and decorative insignias, each can be personalized. To look at a standard sized wind-proof lighter from each respective manufacturer, the differences are minimal at best. Shown to the right you will see the slight variations.
To delve deeper than mere appearances and operating, and take a look at the quality of each of these lighters, one might say that Zippo's are hands down the superior lighter. American made with a lifetime guarantee, and an icon of sorts. Whereas a Star Lighter is made in China, with a lifetime guarantee. Both are reportedly very good quality. The major difference, aside where they are manufactured is quite simply price. The average Zippo's retail price is nearly double that of a Star Lighter. For wholesale distributors the average price for one Zippo is $15, while Star can easily be found for $2 each. When you purchase a Zippo, you are purchasing a piece of American history, albeit at a hefty price. If you are looking for a high quality lighter, that is wind proof and refillable, you can't go wrong with either of these choices, they are more than comparable.