Posted by Jim Connolly on 12th Oct 2015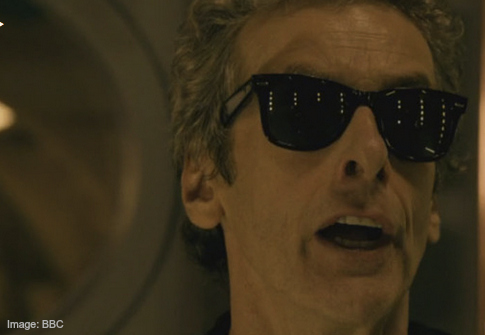 Back in August, I mentioned that Doctor Who's trusty sonic screwdriver was to be replaced with a pair of sonic sunglasses. The decision by the show's producers has been largely unpopular. And it now seems a U-turn is more than possible.
Here's what happened.
Are sonic sunglasses too much for the doctor?
When I initially wrote about the sonic sunglasses, the new Doctor Who season had not been broadcast. However, the new doctor (Peter Capaldi), said in an interview that the Doctor's sonic screwdriver would be replaced with a pair of sonic sunglasses. It was then suggested in the UK press that the sonic sunglasses comment was just a joke. So, fans waited for the new season, not really believing the sunglasses rumors.
Then the new Doctor Who season started. Fans saw that the sonic screwdriver had indeed been replaced with a pair of sonic sunglasses. It's fair to say that many fans were unhappy. In fact, some Doctor Who fans have been in uproar over it, venting their anger on social media. It's worth remembering that the sonic screwdriver has featured in Doctor Who for decades. (The show has been running in the UK since the 1960's).
Sonic sunglasses U-turn
Perhaps because of the fan's backlash, Doctor Who "showrunner" Steven Moffat, was recently reported as saying that the sonic screwdriver could return.
He said: "I know some people are incredibly irate about it, and I'm sure the screwdriver will show up again someday."
I expect that once the current story lines have been recorded and aired, the sonic screwdriver will return. The last thing any show wants, is to anger its most loyal fans and it seems the switch to sonic sunglasses was a step too far.
Wholesale sunglasses
… is what we do. It's our passion, just ask our retailers! if you are a retailer who either stocks sunglasses or wants to become a stockist, CTS Wholesale Sunglasses are here to help. Just email us or call us, using the contact details on the top right of this page.
We look forward to hearing from you!
Image credit: BBC