Posted by Jim Connolly on 19th Oct 2015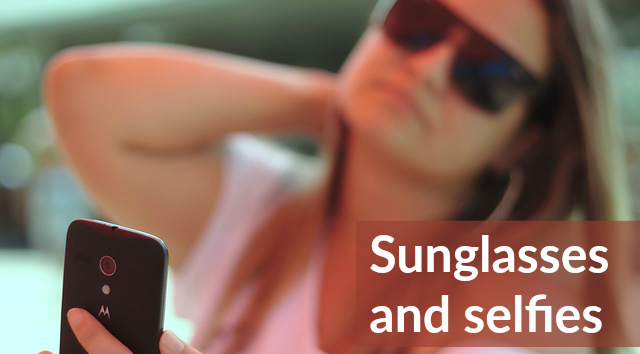 If you wear prescription glasses, it can be tricky to buy new sunglasses, which suit you. This is especially the case for those who are long-sighted, where you have trouble seeing things close up.
I myself had this problem, but found a way to totally overcome it. And this is what I'd like to share with you today. So, here's a super-quick tip to help you make the best sunglasses buying decisions possible.
Sunglasses selfie
Regardless of how you may feel about selfies, they serve one extremely useful purpose. They're great for long-sighted people, who are shopping for sunglasses.
It works like this:
Find a pair of sunglasses you like.
Take off your prescription glasses.
Put on the sunglasses.
Then take a selfie with your cell phone.
Finally, put your prescription glasses back on and look at the photo you just took.
Most cell phones auto-focus very well. This means all you need to do in order to get a nice, clear photo, is point the lens of your cell phone at your face and click the "take photo" button. You will then have an accurate way to see how you look with the sunglasses on, by looking at the photo on your cell phone, when you put your prescription glasses back on.
Some people find it easier to take a series of photos of them wearing various sunglasses, then go grab a coffee and take a moment to compare how each one looks. Others do it one at a time and stop when they find a pair that looks great. It's up to you. I personally prefer to take one photo at a time. It's just an individual preference thing.
Sunglasses and friend's opinions
Prior to using this method, I would take my wife with me and ask which sunglasses looked best. The challenge here is that my wife and I have very different tastes. This is why you really need to be able to see for yourself.
I hope you find this simple sunglasses buying tip useful.
Wholesale sunglasses
… is what we do. It's our passion, just ask our retailers! if you are a retailer who either stocks sunglasses or wants to become a stockist, CTS Wholesale Sunglasses are here to help. Just email us or call us, using the contact details on the top right of this page.
We look forward to hearing from you!