Posted by James on 21st Aug 2014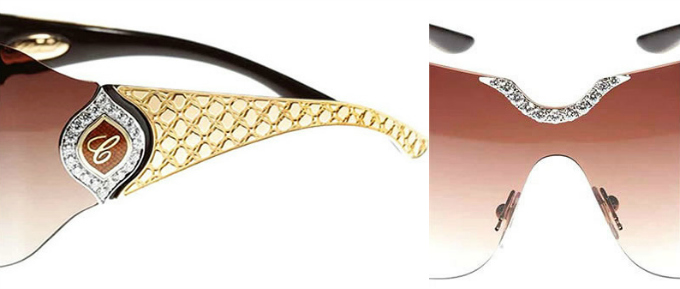 We wholesale sunglasses. For us, it's all about great quality sunglasses at low prices. However, today's post is about the total opposite. Allow me to explain.
I was talking with my friend Julie recently. She told me that she lost her favorite sunglasses while on vacation. She was both frustrated and angry with herself, knowing she will need to spend $300 to replace them. That's a lot of money right after a vacation.
This got me thinking...
How much are the world's most expensive sunglasses?
Whilst the $300 Julie paid for her sunglasses was a lot more than most people will pay, I wondered what the world's most expensive pair of sunglasses cost.
After some research, and a few conflicting reports I found what I believe to be the answer.
It almost knocked me off my feet!
It seems the world's most expensive sunglasses are $400,000 (yes, four hundred thousand dollars)!
So, what do get when you pay $400,000 for your sunglasses?
They are designed for the elite Swiss jewellery house Chopard, by Italian sunglasses specialists De Rigo Vision. The sunglasses contain just over 60 grams of 24 carat gold. They are also adorned with, wait for it, 51 full-cut, 4 carat River diamonds!
Apparently, they needed to develop a special technique, so that the diamonds could be placed closer together. This was to give the placement of the diamonds a special weave effect, which is said to emit a unique light.
As you can see from the above photo, the overall look isn't something that would appeal to most people. However, I guess it doesn't really matter as most people couldn't afford to blow $400,000 dollars on their next pair of shades!
Of course, these sunglasses will not look after the owners eyes any better, than a regular pair of sunglasses with full UV protection. That said, you don't buy sunglasses like this to see things. You wear them to be seen in. They are a statement. They send off a signal to anyone, who realizes how much they are worth. The real irony here, is that very few people would have any idea that these sunglasses cost $400,000.
Thankfully, our sunglasses are a lot more affordable and will leave you feeling like a million dollars!
Wholesale sunglasses
… is what we do. It's our passion, just ask our retailers! if you are a retailer who either stocks sunglasses or wants to become a stockist, CTS Wholesale Sunglasses are here to help. Just email us or call us, using the contact details on the top right of this page.
We look forward to hearing from you!