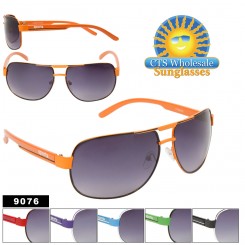 We have added many new styles of aviator sunglasses for the new season. Aviators are always among the top sellers. At CTS we decided to go with some bright colors for 2012. The first style model 9076 you will notice is a metal frame with plastic temples. The frames and temples are color matched. If you are into bright colors then this style may be for you. The orange is real eye catching but if you are not into the bright colors you could always go for black. These are priced at $24 per dozen.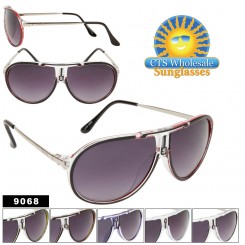 Another nice looking style is the model 9068 this has a clear transparent frame with different colors. The pictures do not do this style justice. One of our favorites is clear with teal color frames. The frame on this style is plastic with a metal temple, just the opposite of the style above. These are priced at $24 per dozen. If you are looking for other wholesale aviator sunglasses then be sure to look at our aviators category.
One thing is for sure about the aviator styles is they just seem to keep selling. They have been around for so many years and the popularity of them just keeps growing. Kids, adults, teenagers and just about everyone loves these styles. Some of the popular celebrities wear these styles very often. CTS has around 37 styles of aviators at the time this article was written but the inventory is growing.
In 2014 we have over 90 aviator styles!
If you are interested in learning more about the history of aviator sunglasses you may like this article at Wikipedia http://en.wikipedia.org/wiki/Ray-Ban_Aviator
We will leave you with Tom Cruise in the hit movie Top Gun wearing aviator sunglasses. In the article, Tom discusses behind the scenes making of this block buster hit movie.