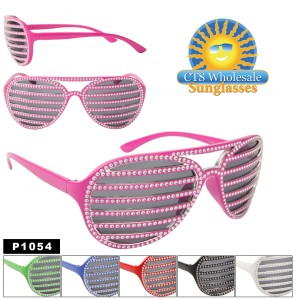 Today we have added several new styles to our fast growing selection of wholesale party glasses and sunglasses! You will see a brand new style of shutter shades with faux rhinestone trimmed shutters that you won't find anywhere else. Last but not least, there are several hot new classic sunglasses in stock, in some very cool patterns and colors.
If you're keeping up on our blogs, then you already know about our newest addition; Party Glasses. This is where you're going to find some truly fascinating party favors, for many different holidays and themes, along with a lot of crazy glasses that are fun for any occasion! Today we added some great Halloween sunglasses, that are glitter covered Jack-O-Lanterns. We also added some really fun glittery eye glasses, that seem to be a great Mardi Gras selection, although, these really could be a nice addition to just about any party theme.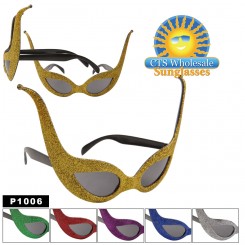 Our selection of California Classics has always been an extensive collection, and today it has three hot new additions. We've got an assortment of various animal prints, in wonderful colors that we are sure are going to sell very well. Another hot new classic style features an ultra-mirrored lens, with unique tri-colored frames. We also added a very nice assorted dozen California Classic sunglasses that includes six classics with peace sign accents, as well as six pair with star accents. Classics are always a great idea to go with, as they are a very universal unisex sunglass style.
As always, we look forward to your feedback!