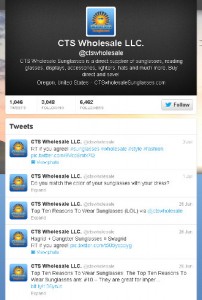 It's no longer enough to simply know what is selling well this summer in regards to sunglasses. Sure, last year Wayfarer frames were all the rage, but so far this year it looks like metal framed aviators are the hot item. Sunglasses have always been cool, but if you really want to stay in the game, you'll need to understand all of the ins and outs of social media.
Here are a few tips for using social media to achieve your sales goals:
Don't Hard Sell
Regardless of the overall popularity of any given style of sunglasses, when it comes to utilizing social media, you want to refrain from a typical hard sell. You need to present a softer sales pitch in places like twitter and Facebook. These are social networks, and it has been proven much more effective to steer clear of pushy sales pitches across these platforms.
Provide Valuable Information
By providing information of value or importance, potential customers will be more receptive to buying from you. Interesting facts and figures and especially anecdotal stories about sunglasses are the ideal way to capture attention on social media. Hit them with an old fashioned call to action and they'll buy somewhere else. Achieving sales using social media is all about engaging your target audience in an informed and conversational way.
Know Your Target Market
If you've got a quantity of particular shades to sell and want to match them up with the right buyers, using social media to achieve your sales goals allows you to find that target market and engage them directly.
By using the search tab feature on twitter you can type in a relevant keyword like sunglasses, where you will be provided with a list of people discussing that keyword in real time.
Join in on the conversation, read tweets to see what people are saying about what it is you have to sell, and develop your social media plan accordingly
Start Slow
Finally, remember you need to walk before you can run. There are a lot of different platforms to choose from, like twitter, Facebook, Pinterest, and even Google+, to name just a few. It might be tempting at first to try a blanket approach but the more effective way for using social media to achieve your sales goals has to do with learning the ropes. Choose one or two of the more popular social media sites and take some time to learn the special features each has to offer. Each platform has it's own 'rules of engagement', courtesies that are expected and should be followed.