Spring and summer are indisputably the height of wedding season, making wedding sunglasses a wonderful memento to hand out to your wedding party & guests alike! If you're shopping for personalized wedding sunglasses as a keepsake, you're in the right place!
WEDDING SUNGLASSES
Undoubtedly, weddings occurring out-of-doors will prescribe some form of protective eyewear, so why not have a little fun, and specifically personalize sunglasses to memorialize this special day? With assistance from talented in-house designers, and free artwork, you'll absolutely love the personalization, and have a lasting memento for each member of your wedding party, as well as convenient eye protection for all of your wedding guests! Our entire range of sunglasses all provide 100% UVA and UVB protection. Additionally, we also offer speciality polarized lens sunglasses in both women's & mens styles.
FORMAL OR CASUAL?
Whether you're having a formal church wedding, or a casual beach wedding, with the selection of sunglasses available for personalization, you're sure to find a style that will compliment your wedding! We have an extensive selection of styles, all available for personalization.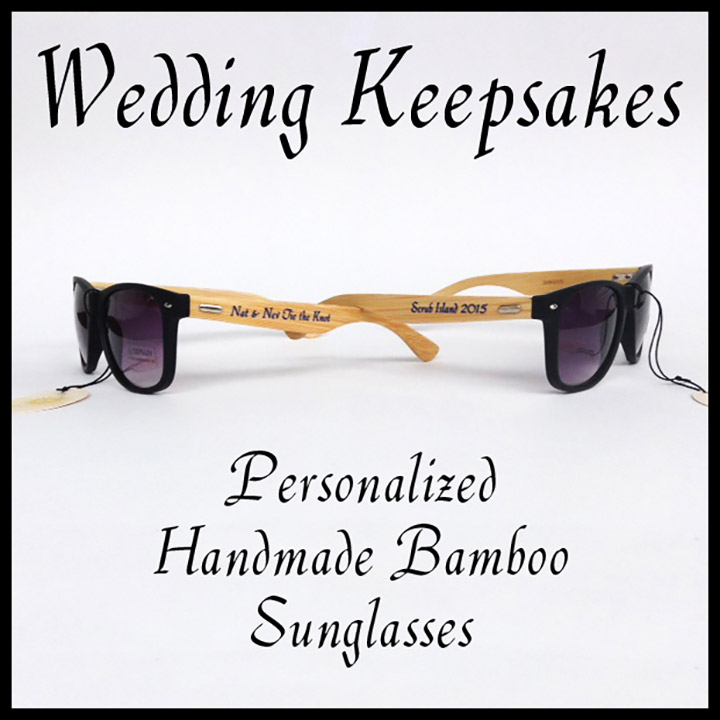 Our line of Bamboo Sunglasses are very popular for weddings, and come with attractive microfiber bags and individual folding boxes, which gives each pair that extra-special touch.
For a more casual feel, a California Classic style is always popular. Available in over 15 single color frames, matching your chosen wedding colors will be a breeze! Mixing and matching colors is always an option to, our sister company PrintSunglasses.com offers popular styles for printing, and of course any style you see right here on CTS can be personalized as well, just contact us and let us help you with ordering and artwork!
In closing, if you are considering personalizing your very own Wedding Sunglasses as guest favors, for your wedding party, or both; The CTS Team is happy to assist! All printing is done right here in the U.S.A., ensuring quick turn-around times. All artwork is free of charge, and nothing is printed without your approval; guaranteeing your satisfaction!