About Wholesale Cigarette Cases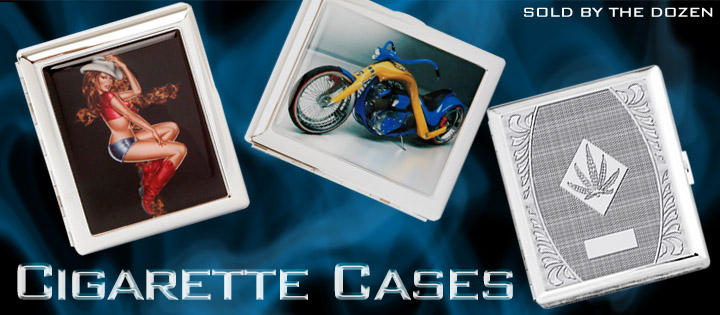 CTS has expanded its selection of cigarette accessories to include several new sets of cigarette cases. These new cases are available in two sizes, which will accommodate standard filter cigarettes, as well as cases that will accommodate 100's. Of the new selection available, there are also several cigarette cases that compliment matching oil lighters.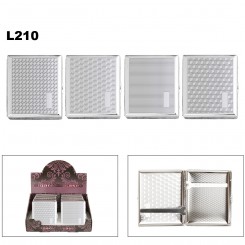 Each cigarette case is made using quality materials, and is designed to function as a protective case for fragile cigarettes. Cigarettes are generally packaged in one of two ways, a soft pack or a hard pack. A hard pack of cigarettes is sometimes called a 'flip-top-box'. Often times, smokers prefer to have a much more secure means of storage for their ever increasingly priced packs of cigarettes. Which is why a cigarette case is a perfect solution. Our cases have a spring hinge, and open much like a book with a very secure closure mechanism. The two facing interior panels have spring-loaded arms that will fold over the cigarettes, which are placed vertically within the recessed sides of the case. Cases for filter cigarettes measure approximately 3¼" width, by 3¾" height, with a depth of ½". For 100's cases measure approximately 2¾" width, by 4" height, with a depth of ½". Cigarettes will remain virtually motionless while enclosed within a cigarette case.
Each dozen cases sold will come in a very attractive display box. The box is capable of displaying each cigarette case, with room to browse the assorted decorative qualities of each case within the dozen. Within each assorted dozen, you will receive three each of four unique designs, all of which fall within the respective theme of the dozen. For instance; L215 is comprised of four different images of dolphins frolicking in the ocean, you will receive three of each image. This set also has a complimentary counterpart selection of Steel Lighters, item # L184. Shown below you will see several of our sets that have complimenting lighters available for purchase.
Dolphin Cigarette Cases with Complimenting Dolphin Steel Lighters
Pin Up Girls Cigarette Cases and Complimenting Pin Up Girls Steel Lighters
Cowgirls Cigarette Cases and Complmenting Cowgirls Steel Lighters
Aces of Suit Cigarette Cases and Complimenting Aces of Suit Steel Lighters