Posted by Jim Connolly on 9th Jul 2015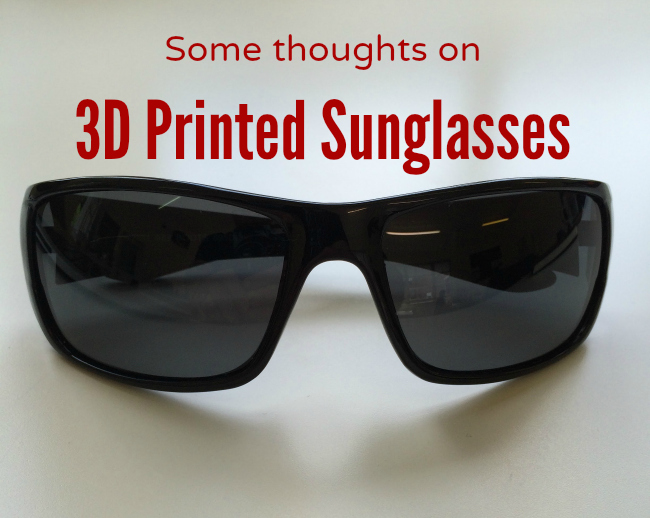 I was thinking earlier about 3D printing and whether it has anything of value to offer the sunglasses industry. And honestly, after giving it some thought I am still undecided.
Allow me to explain.
Sunglasses and 3D printing
3D printing, also known as "additive manufacturing", is already proving massively valuable. Custom fit prosthetics is my favorite example. For example, amputees can now easily access 3D printed limbs and other body parts. This is enhancing the lives of more people every single day. On a totally different level, 3D printing has allowed the proliferation of niche designed products, which have no need for large product runs.
I have seen a few examples of entrepreneurs developing 3D printed sunglasses - well, sunglasses frames, to be exact. In some cases, the styles have been interesting, but nothing I have seen this far has been outstanding. Certainly, nothing that would make me want to ditch my favorite brands.
More recently, I hear people talk about custom designed sunglasses. Sunglasses, which are tailored to fit the shape of your face. The idea is that a 3D model of your head is generated using photographs, even from a cell phone. The frames are then printed, based on the position and shape of your ears and nose.
A solution in search of a problem?
Whilst I get the idea of having sunglasses frames that can be, in theory, tailor made to fit my face, it's the answer to a problem, which I don't have. I try on sunglasses and go for the ones with the correct fit and feel. (Yes, and the full UVA protection!)
Another challenge I see here is that custom fit, 3D printed sunglasses are rather expensive. All the companies I see offering them do so exclusively online. I'm not certain I'd trust some photos of my head, to provide them with the exact detail they need, to make my frames a perfect fit. They'd perhaps be a good fit, but that's what I already have from the sunglasses brands I have used for decades.
I am a huge fan of 3D printing technology. As a closet geek, I have followed the technology closely for over a decade. Certainly, when prices drop and the technology allows for perfect scanning of customer's heads, this will be a compelling alternative. But today… I'm not convinced we're quite there.
We love sunglasses!
Sunglasses are an all year round passion for us. That's why CTS Wholesale Sunglasses is here 365 days a year, to help retailers provide high quality products to their customers. If you're a retailer and you would like to know more, simply click here.We look forward to hearing from you.