Posted by Jim Connolly on 4th Nov 2015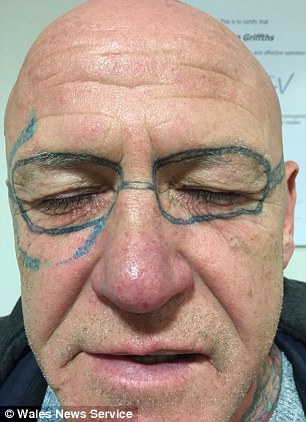 I'm pretty sure this is the weirdest sunglasses story I will ever share with you. That's quite some statement, considering some of the stories I've shared so far.
We can agree that it's not uncommon for people to behave differently when they've had too much to drink. It's even less uncommon for guys to act a little crazy at a bachelor party, when they've had too much to drink. But the story I'm sharing with you today takes that to a whole new level.
A night to remember
So, you've heard all the stories of guys at bachelor parties, getting chained to railings or finding themselves in a weird location, with no idea what happened. Well, in Wales, UK, a guy woke up after attending a bachelor party (what they call a stag party), to find someone had used a Sharpie to draw a pair of Ray-ban's onto his face.
Except, that wasn't a Sharpie.
No... it was a tattoo!
As you can see from the photo above, the tattoo looks a little bizarre, to say the very least. On the side of his head, the arms of the sunglasses have also been tattooed on, with "Ray-ban" inscribed onto the tattooed frame. Apparently, he got extremely drunk and paid to have the tattoo as the result of a dare, from one of his fellow bachelor party revellers.
The story only came to light this week, when the guy, who's in his 50's, had already undergone 2 years' worth of laser surgery, to have the tattoo removed. He's still a little sensitive about it and has asked people not to reveal his name.
CTS Wholesale Sunglasses are passionate about sunglasses. However, I don't foresee any of the team taking their passion to quite that extreme.
And finally
Don't forget, CTS Wholesale Sunglasses is here 365 days a year, to help retailers provide high quality products to their customers. If you're a retailer and you would like to know more, simply click here.
We look forward to hearing from you.
Photo credit: © Wales News Service