Fuzzy Animal Hats are fast selling children's accessories this year. Animal and costume hats meet Practical Mom demands - they're warm snug headgear for cool season outings. And these fun hats also fill whimsical needs - at kids' parties, as gifts and for special events.
If you're a local reseller, convenience or dollar store retailer, mall cart peddler or SOHO (small office, home office) merchandise supplier, there are local direct selling opportunities that need your approach to retailing. Local niche sales channels welcome direct contact.
Here are 5 tips to tap into local buyer channels.
1. Wholesale Animals Hats: Source Animal Hats By the Right Kid, Parent and Price Points
[caption id="attachment_955" align="alignleft" width="417"]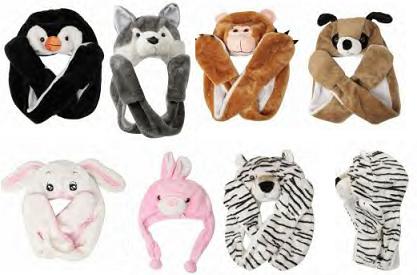 Animal Hats-Tigers Bunnies Monkeys Wolves+[/caption]
A mix of trendy Animal Hats from CTS Wholesale offers:
> Tiger, penguin, wolf, bear, bunnies, puppy and monkey hats kids want. Check detailing on these animal faces and "fur." (If you do an Internet search on "children's animal hats," you'll find not all animal hats are equal!)
> Soft fuzzy fabric, snug fit and ear covers meet mom and dad demands for practical (warm, stays put), while they finish a popular look on slopes, snow suits and play time.
> Wholesale priced at $3.50 (Standard) or $6 (Long-Arm mittens style), these animal hats are priced to sell. See the CTS White Tiger Hat, with long-arm, built-in mittens.
To compare, search and find animal hats priced from $18 to well over $49, based on sale discounts and source: Department Store; Individual, Handmade Artisan, and source that supports women weavers in Africa.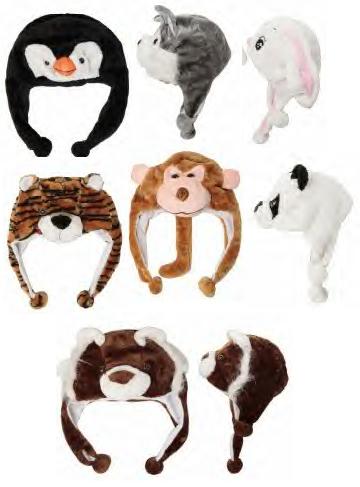 Here's a look at another side and style of CTS Animal Hats: STANDARD hats, with detailing and ear covers, plus LONG-ARM hats with attached reversible mittens.
See CTS Standard Pink Bunny or White Bunny with Mittens. Perfect for a chilly Easter Egg Hunt & Parade Walk.
2. Use Local Supplier Advantage: Some Merchandise Is High-Touch
Though we live in a digital online world, the biggest online commerce companies are turning to brick-and-mortar stores that let customers sample, try on, show or touch the goods before buying. Why?
Product searches ONline often result in a purchase OFFline, at local merchants. An early comScore study conducted for Google found that 63% of users who bought an item they searched for online ended up actually buying the item offline, at a local merchant.
Novelty merchandise and women's fitted apparel retailers noticed higher return rates and more temporary transactions because of customer sizing and fit issues, or because computer screen merchandise pictures disappointed when the delivery box was opened.
Amazon plans to open "real-world" stores where customers can physically browse books, touch music and handle sale-priced accessories they saw online. Ebay established drop-off stores to help physical-world sellers auction goods virtually (online). Google is said to be planning retail stores, like user-friendly Apple stores in regional shopping centers.
3. Develop Local-Based, Local-Loyal Sales Channels
As a local or regional reseller of Wholesale Novelty Animal Hats, you have the advantage of one-on-one sales opportunities, where you can demo this apparel in the real world.
> Party & Event Planners: Children's Parties; Zoo Events & Exhibit Openings; Fundraisers for Animal Rescue, Public Television Programming, Telethon Phone Banks; Donor-Supporter Gifts. Party Planners are always re-stocking and looking for age-appropriate party favors, event décor and giveaways. These are local enterprises who source and support local entrepreneurs.
> Gift Basket & Gift Buying Services: Gift Basket local enterprises focus on Personal Events (birthdays, get well, congratulations) and Holiday Events (Easter, Mardi Gras, Halloween). Gift baskets for children match the penguin, bunny, bear, wolf, tiger and monkey headgear to each child's preferences, favorite animal or preferred costume.
> Mall Cart Impulse Purchases: If you have a shopping mall kiosk or cart, you're likely to pick up 15% more casual impulse sales than mall department stores, according to research from International Council of Shopping Centers.
Merchandise display experts expect impulse buys only if buyers easily see the goods at the time they most need it. For example, convenience stores post display boards near registers during Winter with clip strips of knit hats, gloves and rain gear. A mall kiosk display of Animal Hats - with eye-catching photos of bunny- or penguin-hat kids on a sled, Easter Egg Hunt, at the zoo - grabs time-pressed gift shoppers on the run. (Provide hand-held, low mirrors for shoppers with kids.)
4. Be a Local Supplier for National Events Some small local gift sellers think BIG.
[caption id="attachment_957" align="alignleft" width="300"]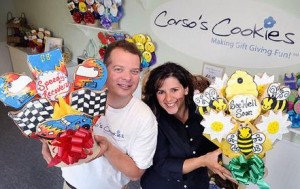 Corso's Art Cookie Gifts[/caption]
Corso's Cookies, custom cookies sold to wholesalers, uses the slogan: Making Gift Giving Fun™
Corso's Get Well cookie basket for a young boy features race flags and cars, artfully iced in butter and sugar.
[caption id="attachment_958" align="alignleft" width="300"]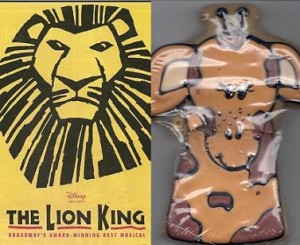 Lion King Playbill, Corso Art Cookie[/caption]
When The Lion King came to town, theatre-goers could buy art cookies of Simba or a Giraffe, made by Corso's regional bakery.
> Contact your city Convention & Visitor (ConVis) Office or major theatre arts complex for their Calendar of Events. Most bookings are made a year in advance. Conventions, Meetings, Touring Theatrical Shows, Music Productions, plus local social events catered by meeting centers . . . all have event planners and, often, concession stands selling tie-in, souvenir merchandise.
> See above for a 6-inch Giraffe Butter Cookie, plus artist-decorated lions, from Corso's custom bakery for Famous Artists Broadway Theater Series -- when FA brought The Lion King to town.
5. Get Into Local Advertising / Local Search Results
Besides approaching local Event Planners, Gift Basket enterprises, Mall Cart sellers and Meeting-Convention venues, you can pull these buyers to you with localized ads and search, low- or no-cost.
> Neighborhood newspapers, shopper tabloids, "Penny Saver" and community publications offer low-cost Classified Ad listings. If you sell trendy, affordably-priced Children's Animal Hats, make sure a party or event planner knows you're a source right in their own hometown.
Place one- or two-line local classified ads. Hand out your business cards, with handwritten note of the products you resell that would meet their specific needs.
> If you have a business web site, "optimize" it to get into Local Search Results listings for free. Even major search engines (Google, Bing, Yahoo!) serve up localized search results, alongside their paid-placement (sponsored) ad listings. But, the search engines' crawlers and spiders have to find your web page, first.
(a) General: Enter key words in header tags (meta tag fields) of your web site, such as "animal hats," "children's animal hats," "costume hats," "penguin hats," "tiger hats," etc.

(b) General: Make sure the words "Children's Animal Hats" and "warm animal hats for kids" appears on your Home Page. Don't rely only on pictures of your animal hats, because search engine crawlers may not pick up image-only content.

If you show a photo, make sure you describe what the photo displays in words in the photo "Alt Tag." Search crawlers scan those tags, even though they don't appear to customers viewing your web site unless they mouse over the photo.

(c) Local: Make sure your local business address appears on the Home Page of your web site. Search engine spiders use address and zip code to localize their index.

(d) Local: Mention your metro area, city or region in describing your company, on the Home Page and pages titled: About Us or Contact Us. It's another localization clue to search crawlers, and it provides another location clue for local search results listings.

(e) Local: List your business phone contact number on your web's Home Page and on the About Us or Contact Us web pages. Best to list a number with local Area Code (another localization clue), rather than - or in addition to - only a toll-free 800 number.