Posted by Jim Connolly on 30th Jul 2015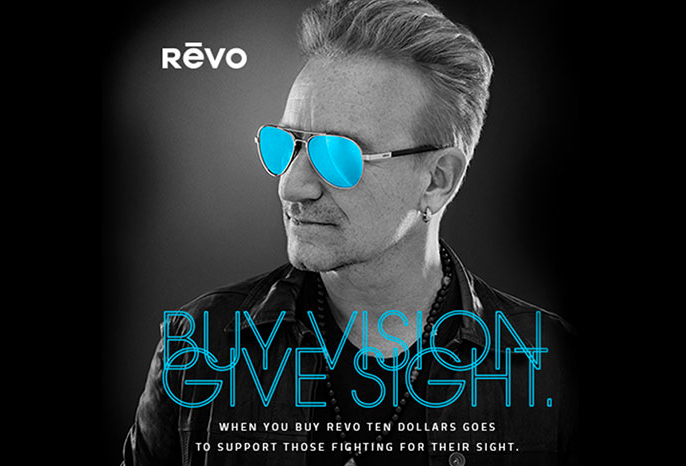 As regular readers will know, I wrote earlier this year about U2 frontman, Bono.
For the past 20 years, Bono was seldom spotted without wearing sunglasses. This led to him being singled out for criticism. Social commentators and the media generally, said Bono was trying too hard to act like a rock star.
This turned out not to be true. We discovered that Bono had a very legitimate reason for his constant use of sunglasses. It transpired that the rock legend and humanitarian activist, was diagnosed with the eye condition glaucoma. One of the effects that glaucoma has on sufferers, is that they can be highly sensitive to light — hence Bono's need for sunglasses. You can read my article on Bono and glaucoma here. Apparently, Bono never went public about glaucoma, because he didn't want to be pitied.
So, why am I sharing this with you today?
Bono launches charity sunglasses line
News reached me earlier of an initiative set up, between The Brien Holden Vision Institute and Bono. The "Buy Vision, Give Sight" campaign has an inspirational goal. By donating $10 from the sale of every pair of Revo sunglasses, they hope to "prevent vision impairment and blindness in more than 5 million people by 2020." Their funding target is $10 Million. Their efforts will focus on helping people in under-resourced communities worldwide, to get the eye care they need.
Based on Bono's track record for raising money and awareness of global health issues, I believe, and hope, this initiative will be a massive success. It's wonderful to see Bono use his global reach, to help those who would otherwise lack access to eye care.
And finally folks
Remember, if you are a retailer who either stocks sunglasses or wants to become a stockist, CTS Wholesale Sunglassesare here to help. Just click here to get in touch.
We look forward to hearing from you!
Photo credit: Brien Holden Vision Institute / Bono