CTS is your #1 source online for bulk wholesale sunglasses! Whether you are looking for a start up source, or you are an established volume distributor, CTS is ready to provide you with unparalleled service, sunglasses, and prices. We have over twenty years of experience in the wholesale and retail sunglass industry, and we understand your needs.
Bulk wholesale sunglasses from CTS are an ideal way to replenish your stock of sunglasses. We have all of the top selling designer sunglasses, fashion sunglasses, as well as sports sunglasses, kids sunglasses and so much more. CTS is the manufacturer and direct importer of trademarked brands DE™ Designer Eyewear, Diamond™ Eyewear, and Xsportz™ ,These brands are proven best sellers, and when you buy from CTS you are in fact eliminating any and all middleman fees, allowing you to make the most of your investment. Each of these brands now offer something very new, and exciting too!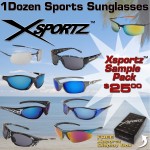 You can now buy dozen(s) of each of these brands that will contain an assortment of styles from the brand line. This is something you won't find with our competitors. You can buy a dozen of Diamond Eyewear and you will receive twelve pair of rhinestone fashion sunglasses packaged in the Diamond brand display box. Each trademarked brand now offers this ultimate shopping option. For customers looking to offer a variety with minimal overall inventory, this is absolutely ideal. We even have a nice package deal that comes with 36 pair of sunglasses and a nice counter top display!
Our selection of Package Deals is incredible, with unbeatable savings on large orders. We offer Package Deals of 1 dozen, to 100 dozen; and if you're interested in ordering directly from our factory in China, that's no problem either. CTS is happy to meet our customers needs, and our Package Deals and Starter Packs prove it!