Posted by James on 7th May 2015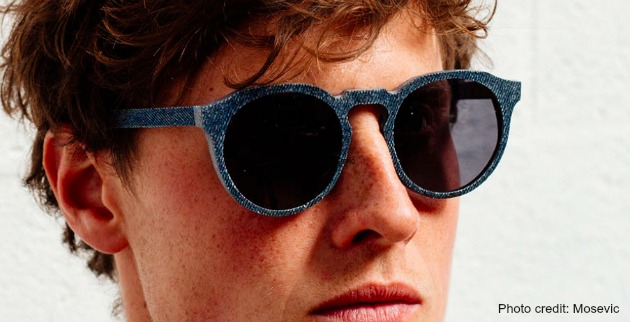 Take a look at the photo above and see if you can guess what those sunglasses are made from. If you just said denim, you're absolutely correct.
In recent months we've brought you news of sunglasses made from bamboo, old newspapers and even the reclaimed wood from torn down homes in Detroit. Today, it's Mosevic, a small UK business, which has captured our attention, by transforming denim into shades.
Sunglasses made from layers of denim
Apparently, a material has existed for some time called micarta. Micarta is formed by bonding multiple layers of denim with resin. This then produces a block of material, which can be carved or sculpted.
Mosevic's sunglasses (called Solid Denim) are made in a slightly different way. Instead of producing a block of material and then carving the frames from the block, they use a different approach. Individual layers of the denim material are built upon to create the frames. As many as 10 layers are used on areas where the frames need to be thicker, and fewer layers (as few as 3) are used on areas, where the frames need to be thinner.
The exterior of the Solid Denim frames not only looks like denim, it also has a similar rugged texture. The inside of the frame, as you'd expect, is smooth. As you can see from the above photo, the end result is a very individual design.
Mosevic is currently running a Kickstarter campaign for Solid Denim. There's no launch date as yet.
It's inspiring to see designers of sunglasses, using so many fresh ideas and materials. I wonder what the next innovative material will be? Whatever it is, you'll see it here!
Remember folks!
Don't forget, CTS Wholesale Sunglasses is here 365 days a year, to help retailers provide high quality products to their customers. If you're a retailer and you would like to know more, simply click here.
We look forward to hearing from you.