Diamond™ Eyewear brings several exquisite new fashion sunglass styles to you this week! Diamond™ is known for it's sparkle and glitter and fans won't be disappointed with the new additions of sunglasses. There are hot new fashions with the popular large lenses, worn by celebrities, and even some very sexy sleek frames with rhinestone accents.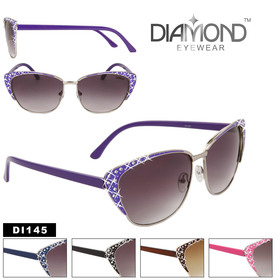 Styles in Stock Now!
A brand new style features the fashionable cat eye frames with rhinestone trim. For ladies who prefer a smaller lens size, Diamond™ has a very streamlined style that has daisy flowers on the arms with rhinestone centers.
One of the Diamond™ styles updated today is actually one of our most popular styles, and we are happy to announce they are in stock! A popular style with delicate metal arms, large lenses and rhinestones. These sunglass frames are made of the popular clear colored plastic that is all the rage these days, and are available in a very pretty pink, and other attractive colors, as well as a tortoise print.
Why Diamond™ Eyewear?
These new styles are all available by the dozen, in presorted frame colors and lens tints. Each dozen is packaged in the absolutely gorgeous Diamond Brand Display Box. All of our sunglasses have 100% UVA and UVB protection, so even when your sunglasses are for accessorizing, your eyes are still getting the protection you deserve!
The new additions of our Diamond™ Eyewear Brand are all inspired by today's hottest brand names, and as always, are available at a fraction of the cost as the name brands. Diamond™ Eyewear has proven to be one of the best selling brands of wholesale sunglasses for women because they have such a high fashion appeal, and a reasonable price tag. Check out the full line today, we are sure you will agree, Diamond™ Eyewear Shines!