Posted by James on 23rd Apr 2015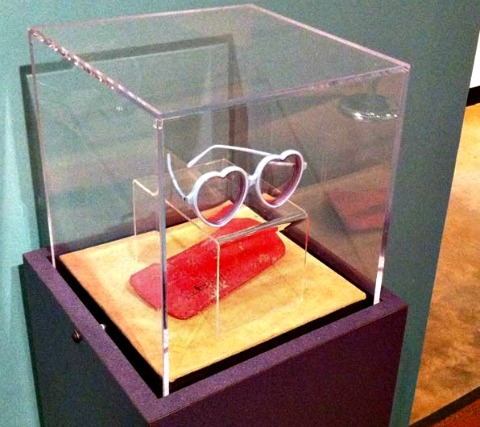 Usually, when a pair of sunglasses are involved in a theft, it's to disguise the culprit. This time, it was the sunglasses themselves that were stolen and it seems the thief managed to escape unnoticed.
Oh, and the stolen sunglasses? They were no ordinary shades. They belonged to Sir Elton John!
Here's what happened.
Museum left in the shade... over stolen shades
Officers were called to the Rock and Soul museum in Memphis on Tuesday night. Museum employees noticed that a pair of sunglasses with heart-shaped frames, donated by Elton John, were missing from an exhibition case. The sunglasses were part of an exhibition, to celebrate the 60th anniversary of Rock and Roll.
Law enforcement officers checked surveillance camera footage, however, the thief was not spotted. According to media reports, the thief used tools in order to quickly and quietly open the display case. This is why no one noticed the sunglasses missing until later that evening.
The value of the sunglasses?
It's pretty simple to estimate the value of a pair of classic sunglasses. However, it's a lot harder to estimate the value of a pair, which were owned by a well-known celebrity. The value is based on whatever a fan is willing to pay. As I mentioned in a previous post, an Elvis Presley fan paid close to $30,000 for a pair of sunglasses, which were previously owned by Elvis.
Estimates for this pair are $2000. The fee is lower than you might imagine, because of Sir Elton's massive sunglasses collection.
And finally folks!
Don't forget, CTS Wholesale Sunglasses is here 365 days a year, to help retailers provide high quality products to their customers. If you're a retailer and you would like to know more, simply click here.
We look forward to hearing from you.
Photo: Facebook