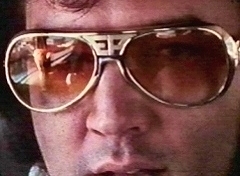 The king of rock Elvis Presley seemed to always wear a style of sunglasses that became very famous because of him. He seemed to love these sunglasses and they did look very good on him. Gold seemed to be his favorite color for this style. These have a aviator look to them with holes in the side arms. We all miss the king of rock but we can bring back these cool shades in memory of him. Las Vegas seems to be a big place for Elvis look alikes wearing these sunglasses.
CTS wholesale is bringing back these cool shades from the past and offering them to you for only $24 per dozen (just $2 per pair). They come pre-packed by the dozen with the following color assortment:
4 gold - the most popular color
2 silver
2 purple
2 pink
1 blue
1 green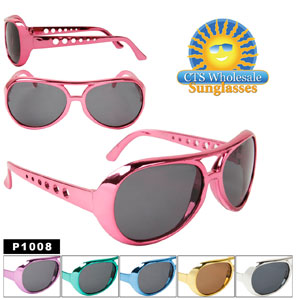 If you are an Elvis fan these sunglasses are for you! Why buy your sunglasses for retail prices when you can purchase them wholesale here. If you are a retailer then consider carrying a nice assortment of novelty sunglasses like these and many others. This is something different you can offer your customers. Stand out from your competitors and offer something different! Maybe a separate sunglass display carrying these types of sunglasses. Checkout our Elvis sunglasses here.
This model is currently out of stock, but we anticipate their return in the future.